Some of the most beautiful work of this craftsman, and many others, are in this book "Liège Gunmakers through their Work. 1800 - 1950".
For more detail see: LIEGE GUNMAKERS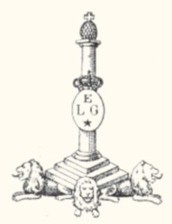 Leon SOLEIL
Revolver of ordinance Leon SOLEIL, the barrel is with 8 sides, lock it with rebounding hammer, the grips are finely squared, and the stick ends in a metal cap and a ring. The barrel is with 6 shots.
Punches
It carries the lawful punches of the proof house of Liege, namely:
Spangled ELG in an oval: acceptance, of use of 1846 to 1893.
N spangled: countermark of the controller, of use of 1877 to 1968.
The manufacturer
L SOLEIL FT à LIEGE. Corresponds to Leon SOLEIL manufacturer of weapons in Liege street Saint Léonard, 477 registered with the proof house of test of 1885 to 1897, son of SOLEIL Léonard manufacturer of weapons to the same address. This last sold to his son patents PREVOST Gustave and ABADIE, Ismaël concerning revolvers. This thus explains the mark System ABADIE patented struck the weapon.
PREVOST Gustave as for him registers with the proof house of 1876 to 1899, lived street of the gold Pot, 27 in Liege. It is him which acquired in first patent ABADIE before reselling it to Léonard SOLEIL the 18.05.1881. PROVOST deposited ten Belgian patents, in particular for a closing of plate of covering of the mechanism of revolver.
DATING
This weapon was manufactured between 1881 (date of purchase of the patent) and 1893 (date of change of punch of the proof house.
GG