Some of the most beautiful work of this craftsman, and many others, are in this book "Liège Gunmakers through their Work. 1800 - 1950".
For more detail see: LIEGE GUNMAKERS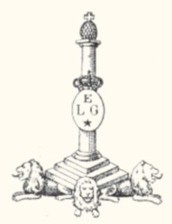 Léon (or Léonard) Soleil
The weapon
It is about a revolver of the type LEFAUCHEUX to open carcass and pinfire ammunition.
The smooth cylinder is with 6 rooms of gauge 7mm.
The long barrel and probably striped is hexagonal with right front sight.
The loading is practiced by a right side door dropping thanks to the action of an internal spring.
The metal rod is in the shape of nail and slide in a guide placed in the console.
It's introduced very with turn into the rooms for the unloading of the inflated casings.
The plates out of wooden of walnut are smooth and joined together by a screw and two rivet washers of brass.
This stick ends in a ring of cap and its screw pivot.
The hammer is with head punt while the curved and smooth trigger is protected by a trigger guard.
Punches
The weapon carries the lawful punches of the proofhouse of Liege, namely:
ELG on star in an oval vertical: final acceptance, of use of 1846 to 1893.
Z spangled: countermark of the controller of use of 1877 to 1968.
Marks
Crowned mark LS could belong to:
SOLEIL Leon registered with the proofhouse of 1885 to 1897, credit in LIEGE street St Léonard, 477.
SOLEIL Léonard (father of preceding) street St Léonard 477. He is the purchaser of patents ABADIE and PREVOST before reselling them with his son.
GG