Some of the most beautiful work of this craftsman, and many others, are in this book "Liège Gunmakers through their Work. 1800 - 1950".
For more detail see: LIEGE GUNMAKERS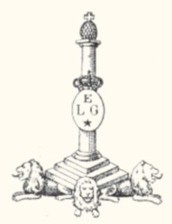 T.THEATE & Cie
The weapon
Swiss revolver of ordinance model 1882 with central percussion and close frame.
The barrel is octagonal with bodies of aiming. It presents 4 right stripes.
The cylinder with six rooms is of calibre 7,5 mm Swiss.
The lock has booklet is with rebounding hammer of type Chamelot & Delvigne.
The loading is practiced by the right side door of type ABABIE dropping thanks to the action of an internal spring.
The access to the mechanism is facilitated by a plate of covering also including the trigger guard and which swivels on an axis placed in front of the console.
Unloading is practiced using the metal rod placed under the barrel.
The plates of stick are out of ebonite with Swiss cross in logo.
Punches
The weapon carries the punches of the proofhouse of Liege, namely.
ELG on star in a crowned oval: final acceptance post 1893.
Spangled AJ: countermark of the controller post 1877.
R crowned: rifled bore, of use of 1894 to 1968.
Marks
P 8988 on the rooms of the cylinder: serial number of the Swiss army.
Swiss cross in a circle: lawful mark of the Swiss weapons of ordinances.
TT & C in a cartouche: mark arms company T.THEATE & Co partnership limited liability, street Trappé, 5 in Liege, which was registered with the proofhouse of Liège of 1894 to 1907.
In 1907, the company deposits a Belgian patent for an extractor of cartridge of Comblain rifle allowing the use of the cartridge throat.
HT MM and figure 5: ignored significance, it is acted as any probability of marks of workshop and/or subcontractor.
GG