Some of the most beautiful work of this craftsman, and many others, are in this book "Liège Gunmakers through their Work. 1800 - 1950".
For more detail see: LIEGE GUNMAKERS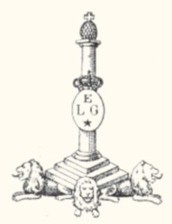 Troisfontaines N. J. fils
The weapon
It is about a very traditional revolver with pin and open framework of Lefaucheux type manufactured in hundreds of thousands of specimens by the majority of the arms manufacturers' of Liège.
This revolver is of gauge 7 mm and with 6 blows.
The cylinder to pin is smooth, with six rooms.
The barrel is with 8 sides with a front sight in barley grain at elevated base so that the line of sight passes to the top of the armed hammer.
The folding trigger is without trigger guard.
The stick consists of two squared plates out of wooden of drowning maintained by a screw and two rivet washers with ears.
The loading is practiced by the side door with pedal.
The rod slides in a guide integrated into the console and is maintained by a small leaf spring.
Punches
The weapon carries the partially unobtrusive but still identifiable punches of the proofhouse of Liege, namely:
ELG on star in a vertical oval: final acceptance, of use of 1846 to 1893.
N crowned: countermark of the controller, of use of 1853 to 1877 (period of manufacture of this weapon).
The manufacturer
This one did not leave of identifiable mark with certainty as that was to be the case at the time of the live one of this one. Currently, the information was diluted in time and it's quite difficult to be affirmative in the absence of any serious study on the subject. In short letters NJT struck an amount of stick could, in any assumption, to belong to TROISFONTAINES N.J son, arms manufacturer with Trembleur (province of Liege) which is known by a patent deposited in 1863 for a pattern to the load of the Scottish weapons.
Letters N.J are unknown for me; it probably acts of a marking of subcontractor.
GG