Some of the most beautiful work of this craftsman, and many others, are in this book "Liège Gunmakers through their Work. 1800 - 1950".
For more detail see: LIEGE GUNMAKERS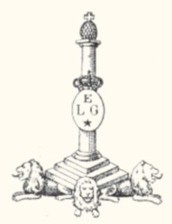 Van Montagu C.
Here is a nice small gun with percussion bullet signed by C. Van Montagu in Ghent. Engraving foliage on the trunk. Foldable release that comes out when you arm the hammer. Capsule box in the grip. Canon damas.
The markings:
ELG on five-pointed star in oval: accepted until 1893
H under the crown? : not determined, presumably the manufacturer of the barrel or gun.
The gunmaker Charles Van Montagu in Ghent enjoyed a certain reputation as his china business card indicates that he was the arquebusier of HRH Prince Philippe (1837-1905), brother of Leopold II, father of Prince Baudouin and Prince Albert who became the third King of the Belgians.
The term "patented" refers to the fact that he had a licence to practise, not that he had filed one or more patents (in any case, we are not aware of them).
Anecdotally, in 1847 he became a member of the "Gild van Sint Antone" of Ghent, a guild of arquebusiers and gunners which had been re-established under the French Regime.
GP
Illustrations by PHL
PS: Prince Philippe of Belgium - Count of Flanders.