Some of the most beautiful work of this craftsman, and many others, are in this book "Liège Gunmakers through their Work. 1800 - 1950".
For more detail see: LIEGE GUNMAKERS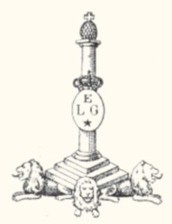 René Warnant
The weapon
It's only about the metal part of the weapon with lock and system of opening for a rifle with crack and key snake.
The unit is decorated with an engraving in rather rudimentary foliage.
Punches
Peron: inspection post 1853.
AH coupled and spangled: countermark of the controller post 1877.
PV surmounted by a stylized lion: test with the powder without smoke, of use of 1898 to 1968.
Marks
The only visible mark is RW which could belong to Rene WARNANT registered with the proofhouse of Liege of 1912 to 1956.
In 1934 it took again the activity of WARNANT, Emile.
GG