Some of the most beautiful work of this craftsman, and many others, are in this book "Liège Gunmakers through their Work. 1800 - 1950".
For more detail see: LIEGE GUNMAKERS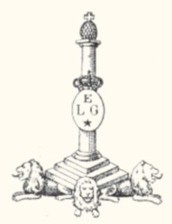 Giovanni Zanardo
Revolver of pocket with central percussion and box frame.
It is of type "Puppy" (Small Bull Dog).
The cylinder with 6 rooms' calibre 320 is grooved.
A safety of the Mauser type is placed on the left side of the carcass.
The barrel is round and striped with a front sight in half-moon.
The metal rod swivels on an axis and must be introduced in turn into each room for unloading.
The plates of sticks out of ebony squared, are maintained by a screw and two rivet washers.
Punches
The weapon carries the lawful punches of the proofhouse of Liege, namely:
ELG on star in a crowned oval: final acceptance post 1893.
P spangled: countermark of the controller post 1877.
R crowned: rifled bore, of use of 1894 to 19683.
Marks
On the console: could mark GGZ in an oval, it act of a mark of manufacturing but it is unknown in the documentation of the arms manufacturers of Liège?? In any assumption I advance the name of the manufacturer of Liège ZANARDO, Giovanni, street Hayeneux, 80 in Herstal. This one deposits 4 Belgian patents in 1910 and 1911.
On the face barrel postpones: C crowned which could be a marking of foundry.
GG
Giovanni Zanardo deposited his 4 patents in Belgium of 1910 to 1911. The last two patents don't give a report on its qualities: manufacturer of weapons, arms manufacturers, or simple inventor with the profit of other manufacturers?
No document in our possession specifies it.
As max announces it, it would be very interesting from this point of view "to exhume" the first two patents of Zanardo, and especially their documents additional.
After doesn't these dates there exist any trace of itself and its arms activities (or of invention?) in the directories of arms manufacture (1924, 1928, 1933, 1959). Nor moreover before in the directory of 1889.
My assumption: Giovanni Zanardo perhaps left Belgium before the war of 14 and regained Italy. Still currently, of Zanardo (its descendants?) are active in the field of the patents in this country.
Another element: for the deposit of 3 patents, Zanardo collaborated with Michel and Joseph SERWIR.
Joseph = Giuseppe.
Would this be 2nd "G" of GGZ?
Pure assumption, alas!
Michel