Some of the most beautiful work of this craftsman, and many others, are in this book "Liège Gunmakers through their Work. 1800 - 1950".
For more detail see: LIEGE GUNMAKERS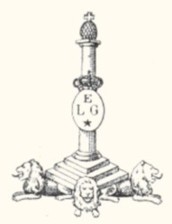 BOVY Théodore Joseph
Side by side smooth bore Shotgun.
The Back action locks are with external hammers and "top lever" key opening
The barrels are attached to the stock by wedge keys.
English type walnut stock.
The gun is marked with the Liege stamps, namely:
EL in cursive letters: provisional test post 1852;
Perron: inspection post 1853.
CROWN/L : countermark of the controller, in use from 1846 to 1877.
18.5: choked guns stamp.
Several punches seem to be missing, such as, for example the STAR /ELG in an oval (1846/1893 stamp).
Other markings found on this gun are:
BOVY T.J. breveté: He was an arms manufacturer in Liege then in Herstal from 1870 to 1891. He registered 7 patents concerning shotguns.
1876: year of the patent
Crown/ JJ: J. this could be JORIS J., manufacturer of barrels in Nessonvaux. In 1850 he registered a patent for the manufacture of Damascus barrels.
JAS MOORE: on locks, unknown name; perhaps the retailer who resold the weapon after having registered his name, as that was the practice of the time.
7715: serial number. The serial numbers seldom started with the n° 1.
GG