Some of the most beautiful work of this craftsman, and many others, are in this book "Liège Gunmakers through their Work. 1800 - 1950".
For more detail see: LIEGE GUNMAKERS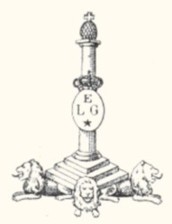 Victor Bovy
BOVY Victor, New York (1887-1893). Brother of BOVY Joseph. Patent filling in Belgium for a shotgun and improvements with the revolving firearms.
Marks:
ELG in a crowned oval is the acceptance of the Liege proof House before 1893.
17,4 is the stamp indicating a choked barrel since 04.10.1898.
NON POUR BALLE (NOT FOR BALL) indicates choked smooth bores since the 16.04.1878.
M * is the punch of the controller of the Proof House.
GG