Some of the most beautiful work of this craftsman, and many others, are in this book "Liège Gunmakers through their Work. 1800 - 1950".
For more detail see: LIEGE GUNMAKERS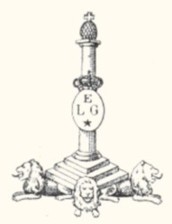 Janssen Frères
Here is a very classic small-calibre juxtaposed gun (410) of Belgian manufacture sold in Argentina by the La Portena armory (also known as Casa Canedo) in Buenos Aires, a large importing house of American and European weapons.
Marking
Annual letter i for 1930;
0kg910: weight of the barrel
S under star: countermark of a controller
Lion on PV: smoke-free powder test since 1898
ELG on star in crowned oval: acceptance since 1893
EL: provisional test since 1852
410-65 in omega coated: nominal caliber and socket length, since 1924
Peron: inspection since 1853
Choke 10. 5 and 10. 4: Choked barrels: caliber indication at 22 cm from the breech.
JF: Janssen Brothers, Arms and Ammunition, rue Fusch 42 in Liège, registered at the Liège Bench of Examinations from 1927 to 1949.
GP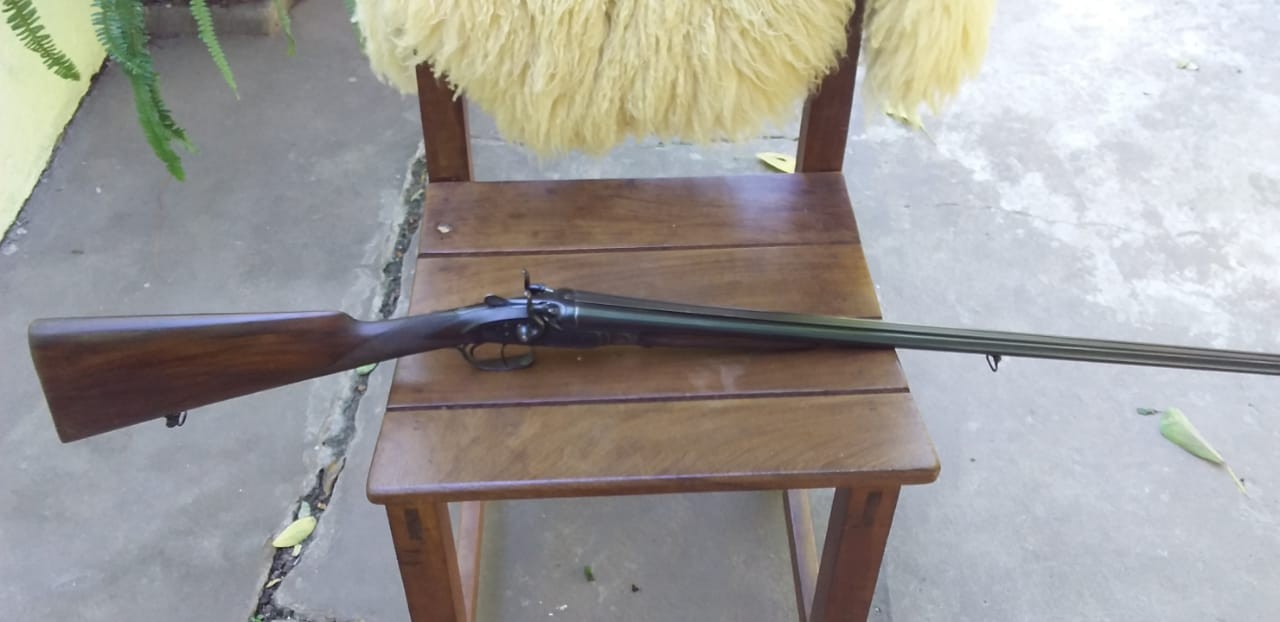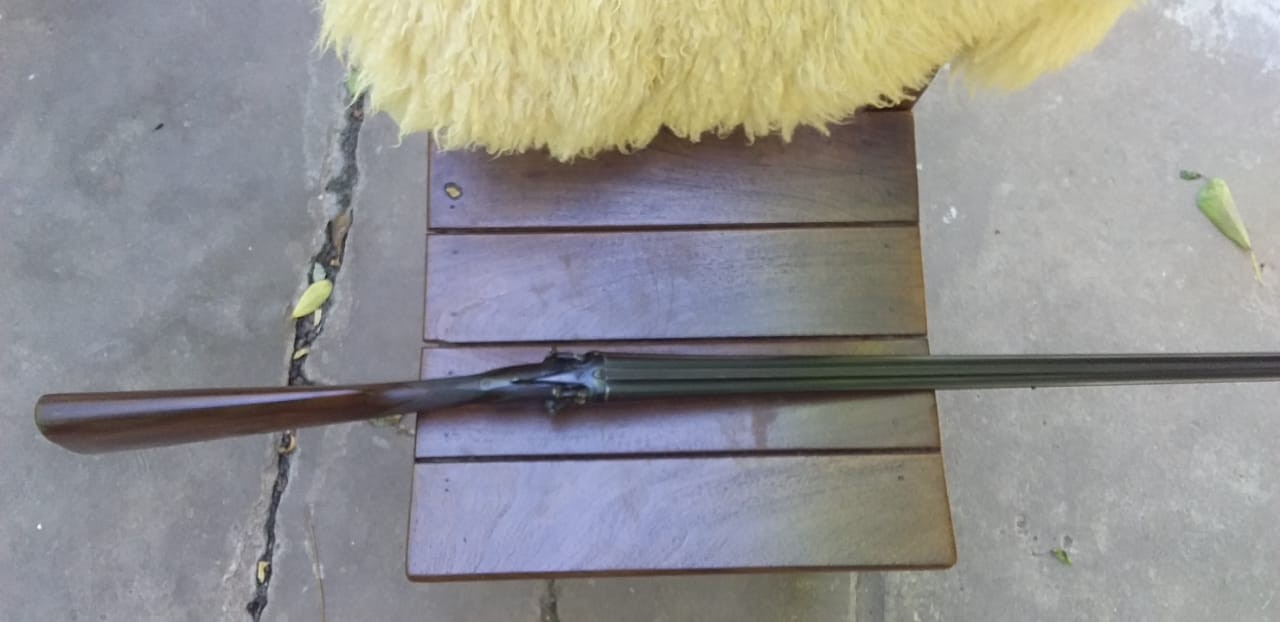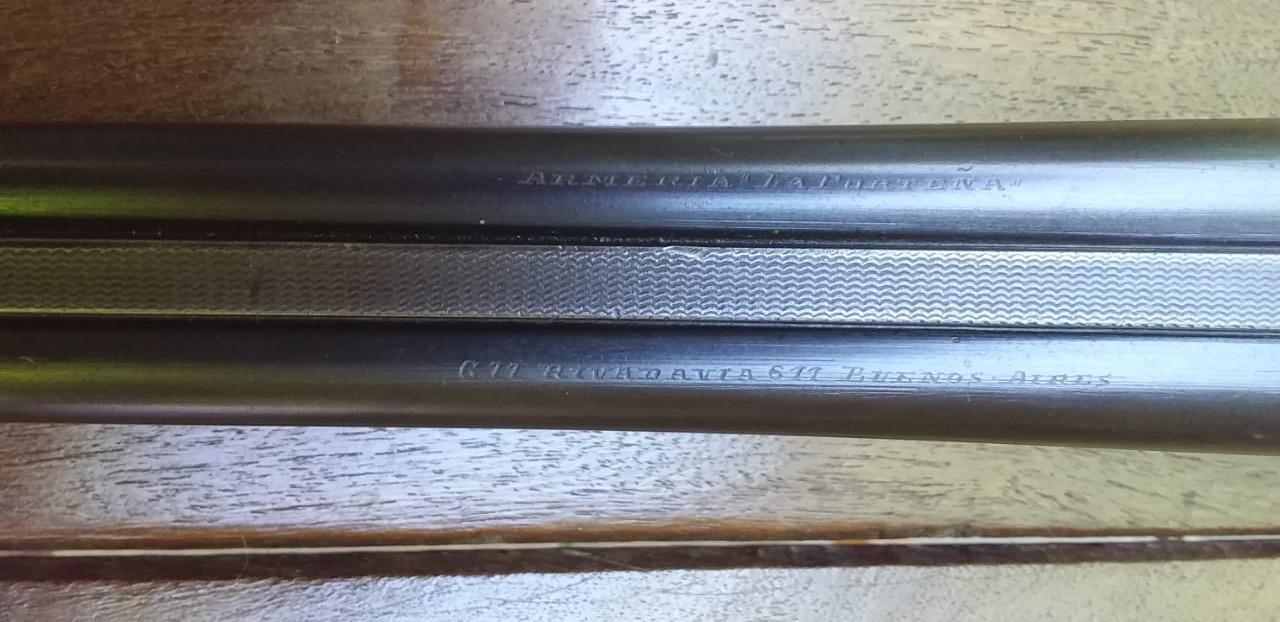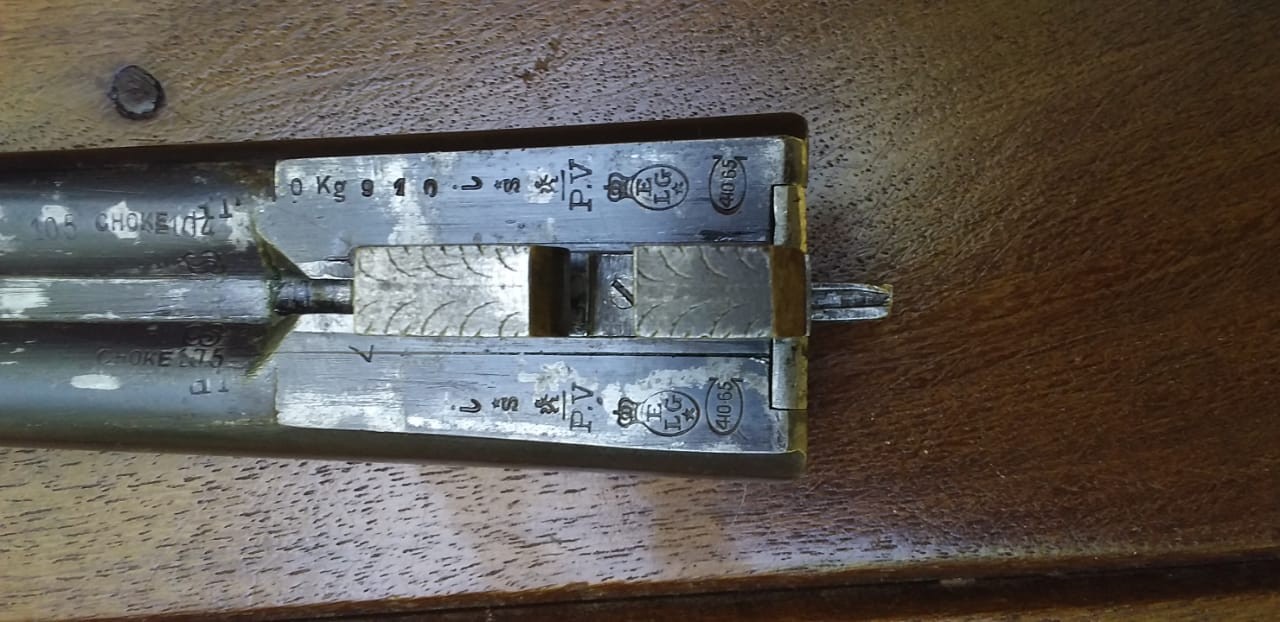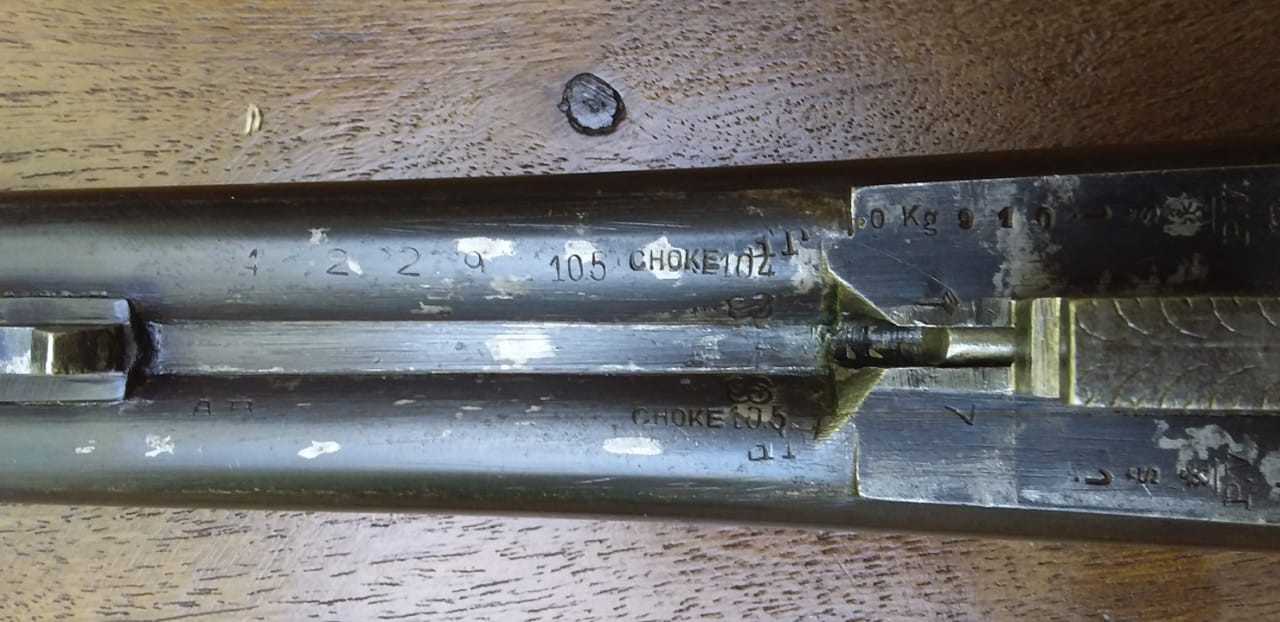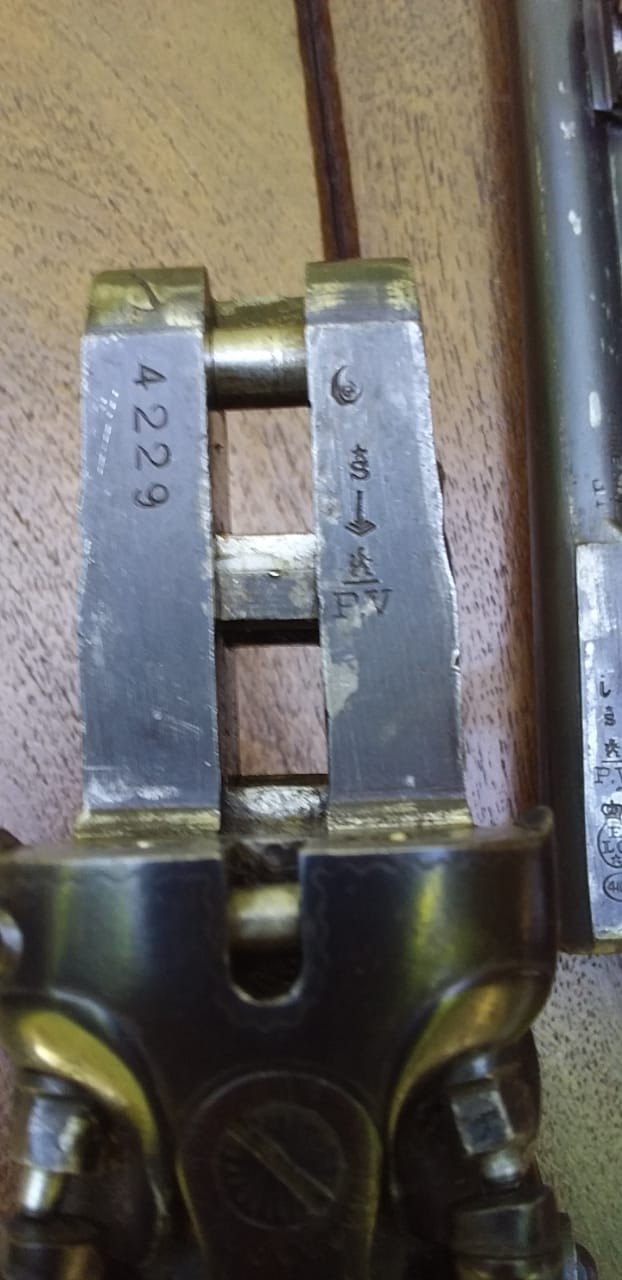 Janssen Frères
Here is a folding rifle in calibre 28, marked JF in a rhombus, more than likely for Janssen Frères. A lot of folding rifles have been made with a "snake key", a snake-shaped opening lever on the right.
This one, on the other hand, has a classic "top lever" key from a shotgun.
Markings
EL: provisional test, in use since 1852.
13. 9: calibre in mm.
u under star: countermark of a controller, in use between 1877 and 1968.
PV surmounted by a stylized lion: smokeless gunpowder proof, in use from 1898 to 1968.
x: annual letter of 1945.
0 kg623: weight of the barrel, of use since 1924.
ELG under crown: acceptance, of use between 1893 and 1968.
28-65 in omega lying: nominal gauge and length of the casing, of use since 1924.
GP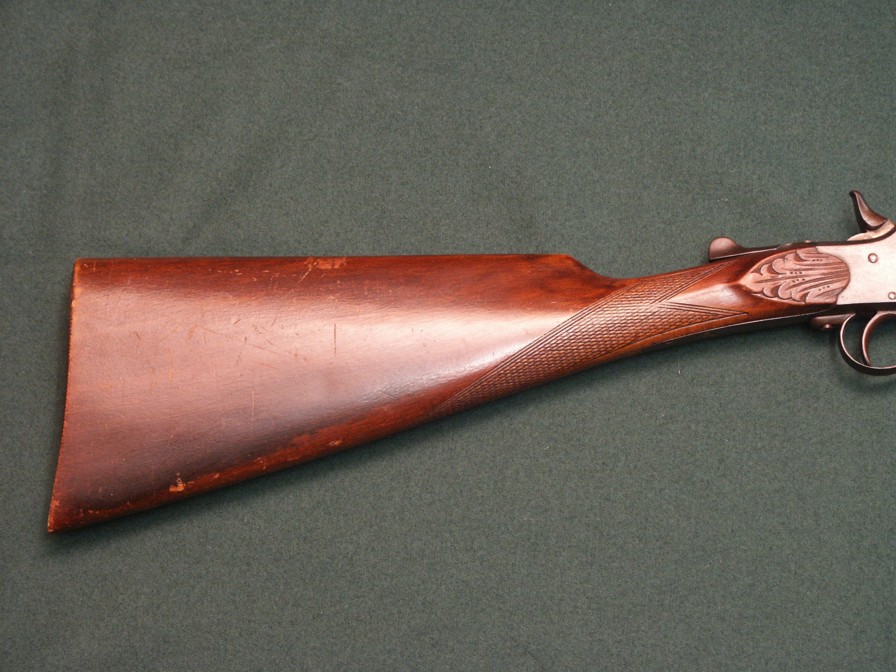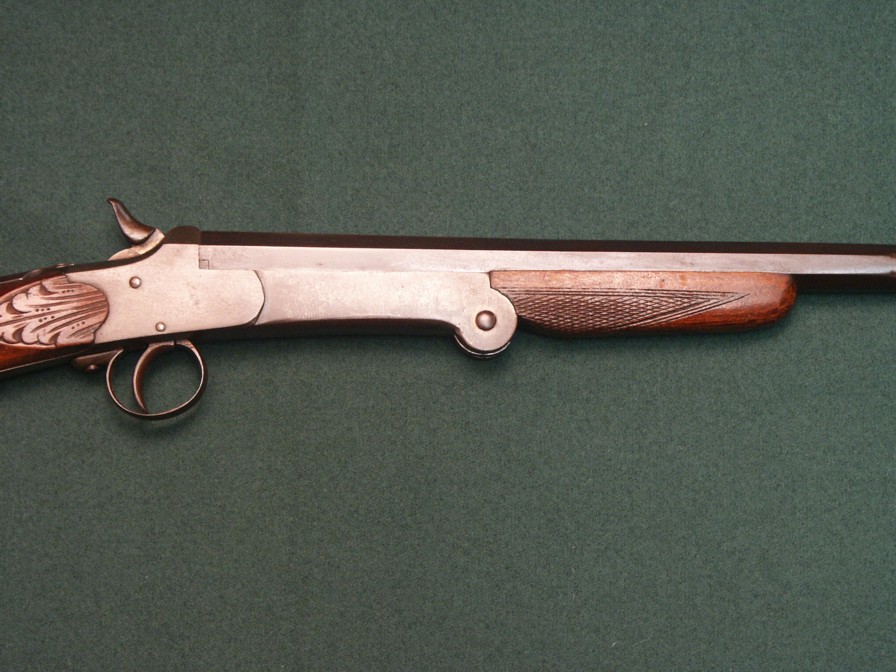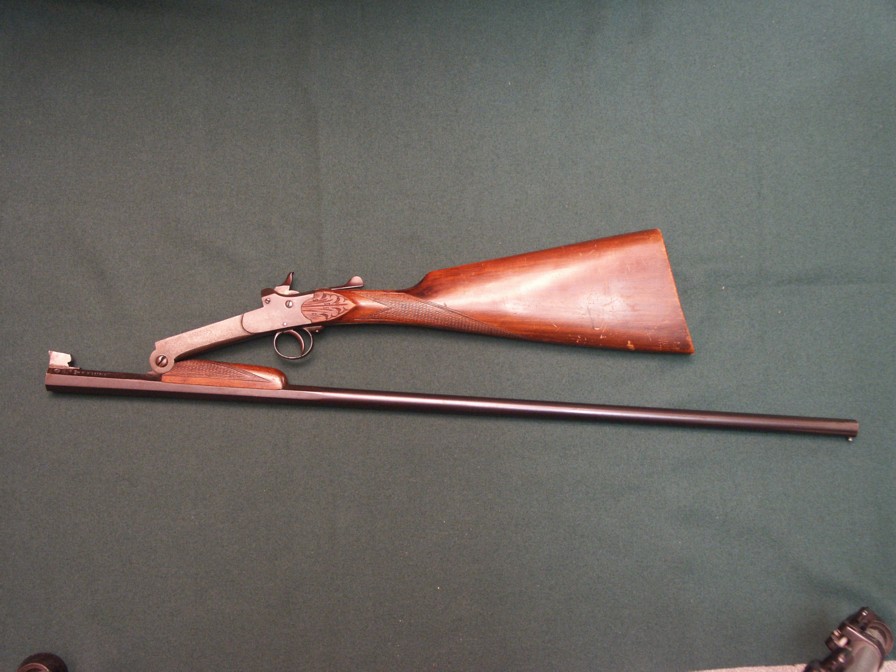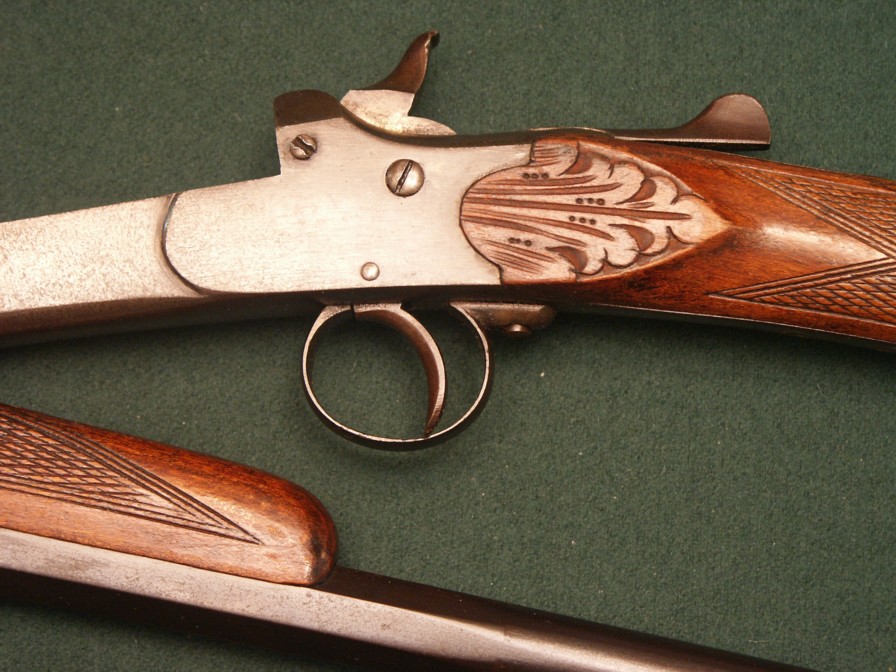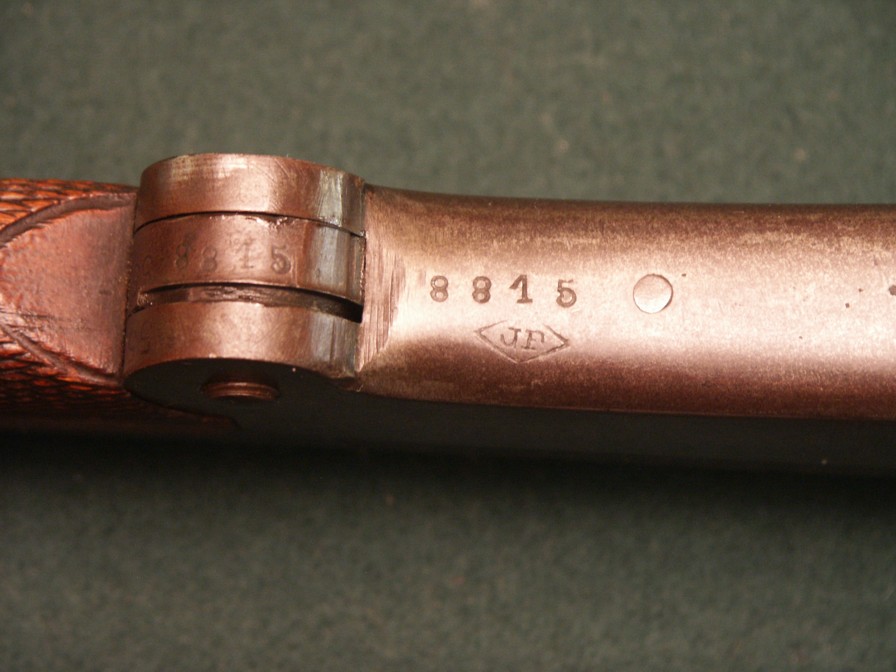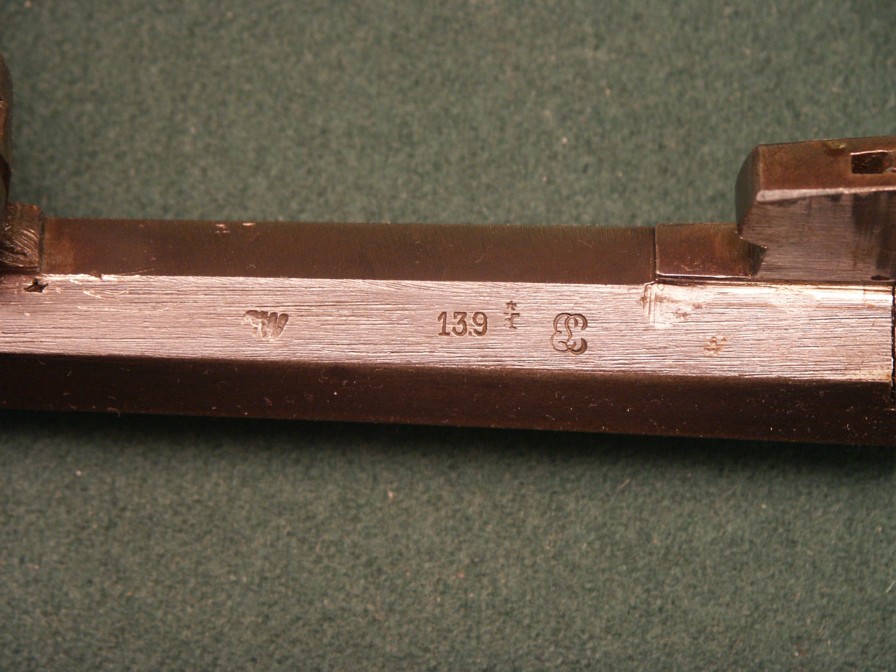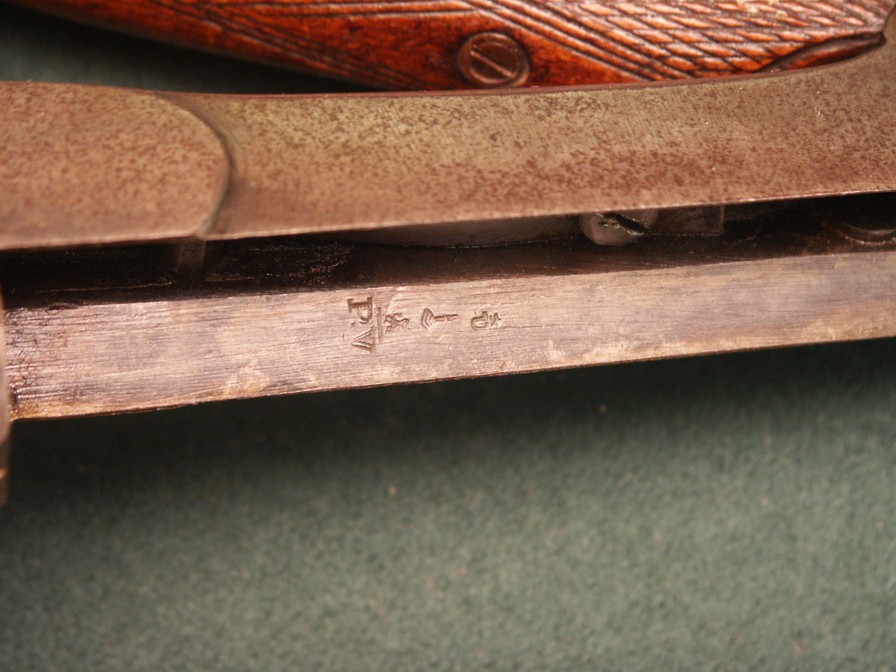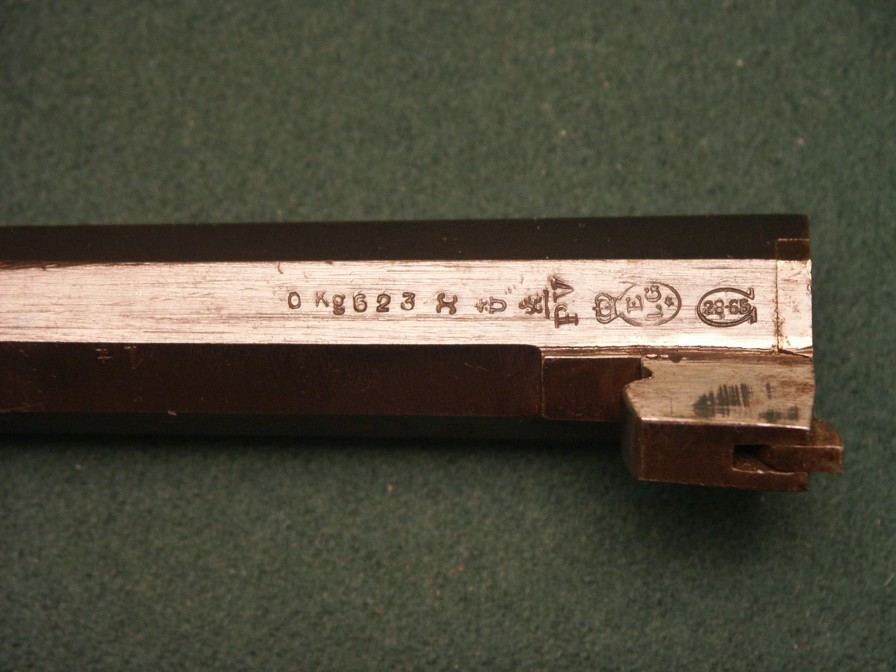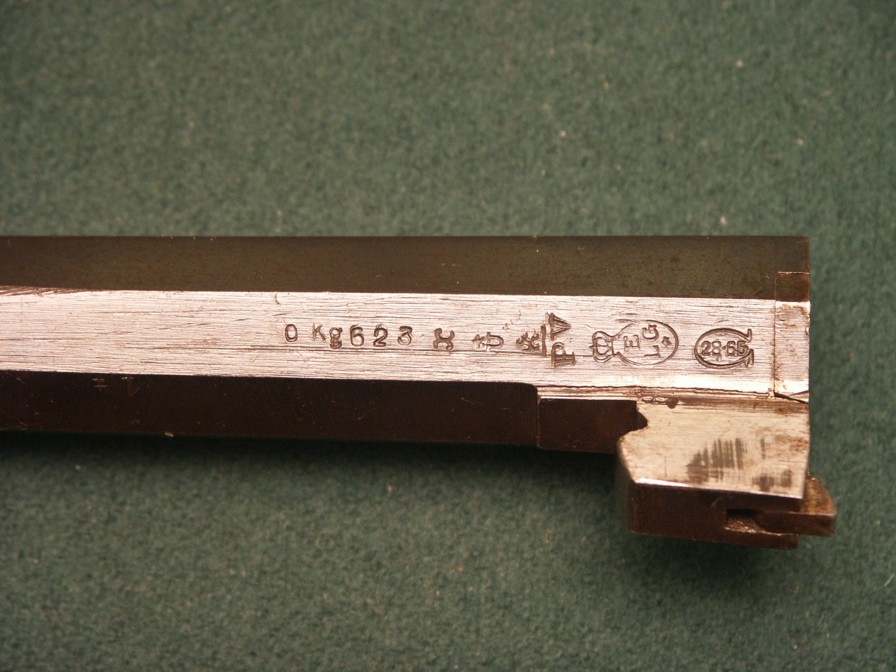 Janssen Frères
It is as any probability of a revolver CHAMELOT-DELVIGNE model 1874 manufactured in Liege and which is largely described on the site.
This specimen carries the punches of the proofhouse of Liege, that is to say:
ELG on star in an oval: acceptance, of use of 1846 to 1893.
X under star: countermark of the controller post 1877.
Other markings are:
CHAMELOT-DELVIGNE Inv. Bté: without comment.
21: probably a job number.
J. BECKERS on the amount of stick: it is most probably about a subcontractor.
Arms manufacturers BECKERS Brothers, are announced to ARGENTEAU (Aimed province of Liege) in 1889.
GR. and DJ: also not identified subcontractors.
JIF: is a mark of manufacturer-tradesman deposited by JANSEN Frères street Fusch, 42 in LIEGE.
It should be known that the organization of arms manufacture of Liège was extremely compartmentalized. The manufacturer-tradesman ordered from a subcontractor which made place this order in several workmen in room according to their speciality. The weapon returned then ready to go up in the subcontractor who delivered then to the "manufacturer" who undertook the sale.
These multiples small craftsmen in residence were never indexed.
GG
Many thanks to Roger Papke for the nice pictures.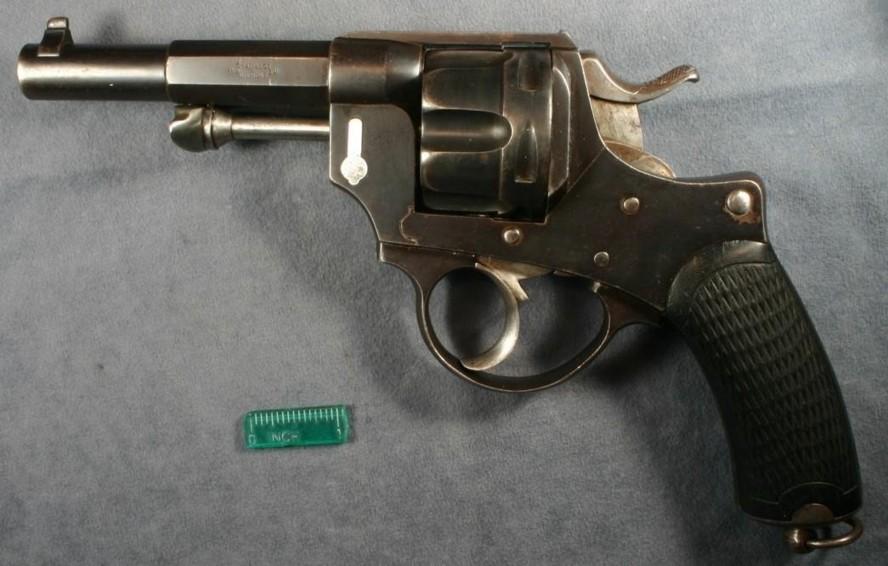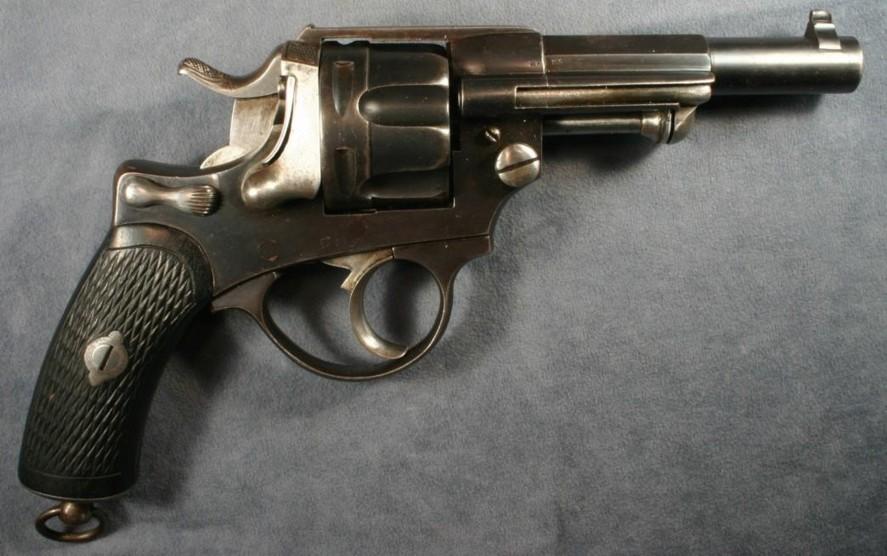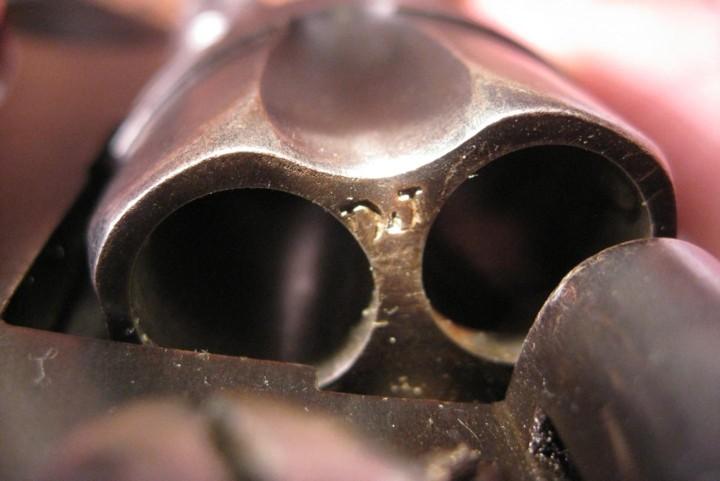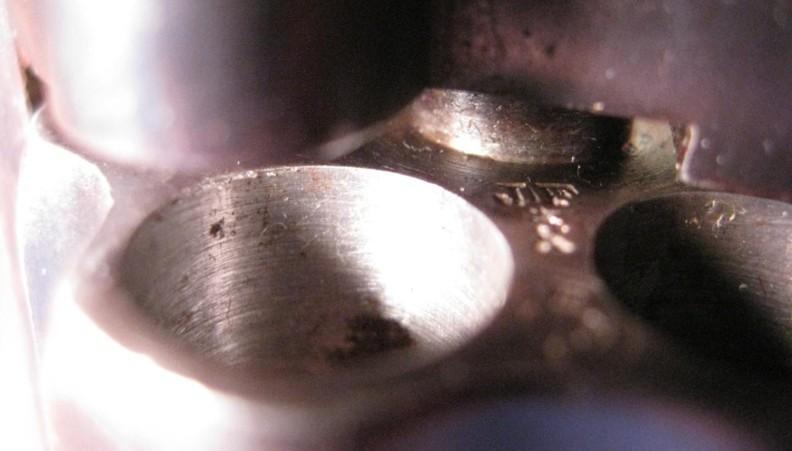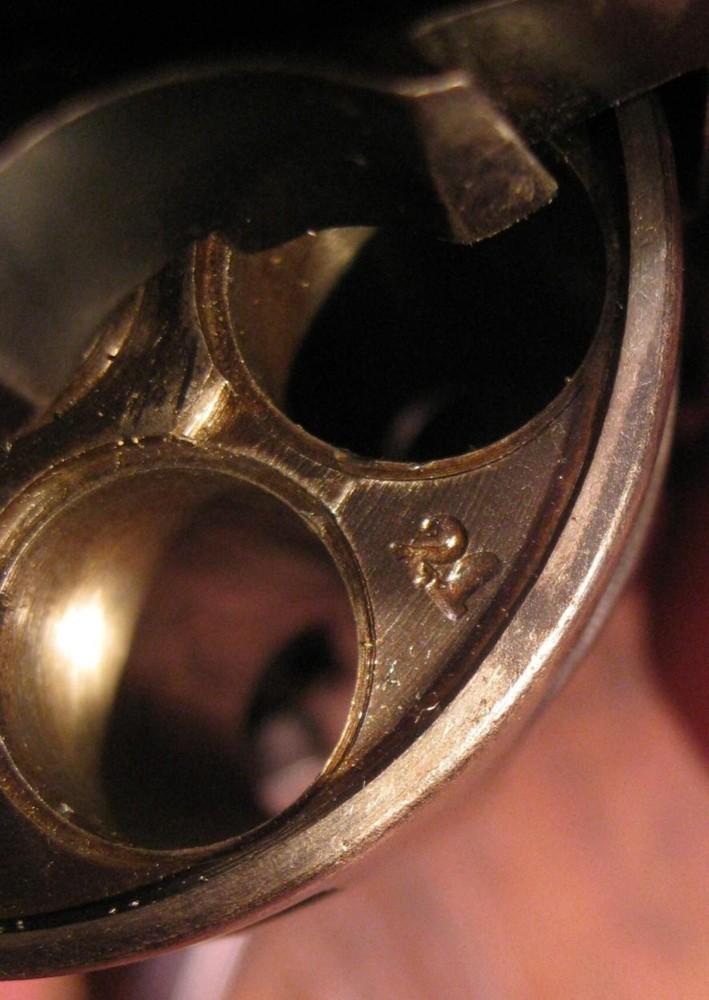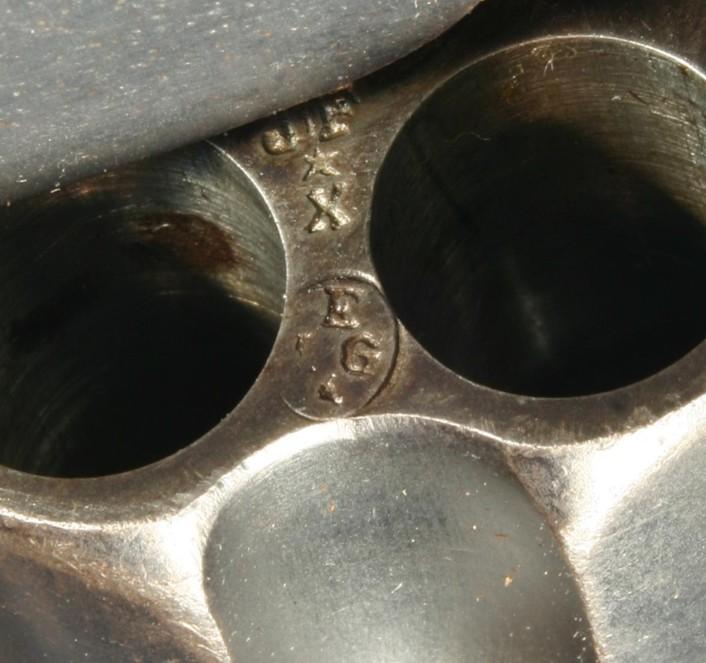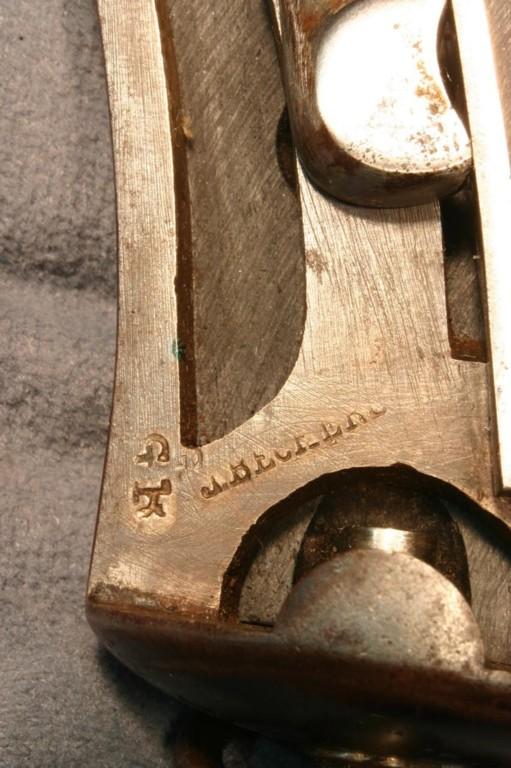 JANSSEN Frères
Also company arms manufacturer of Liège street Fuch 42 and 29 street Duvivier in LIEGE, in fact only one building with the corner of two streets, is registered first once at the Bench of test of Liege of 1927 to 1949 then under denomination JANSSEN Frères S.A. of 1949 to 1954.
Rather wholesaler that manufacture, this company was not announced by the deposit of an unspecified patent.
It held the monopoly of the sale of automatic pistol MELIOR. Sold the weapons of the fabrique Nationale, the weapons and ammunition of PIEPER-BAYARD, ammunition COOPAL and Capsulerie liégeoise inter alias. The company deposited a trademark "J I F" the 27.09.1947.