Some of the most beautiful work of this craftsman, and many others, are in this book "Liège Gunmakers through their Work. 1800 - 1950".
For more detail see: LIEGE GUNMAKERS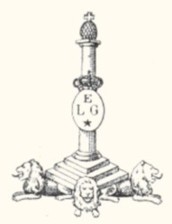 Emile LAPORT & Cie
Charms Laport
Photograph of the charms (called FLIES) manufactured at LAPORT during the forced inactivity of the German occupation into 14/18.
The first represents a gun with trunk called "to Scottish" to capsules, the stick is out of ivory.
The central fly is a unit "carcass, fusing, gun" of type WARNANT-FLOBERT. The stick unfortunately disappeared.
That with the extreme right-hand side represents a penknife multi uses including a blade, a corkscrew, a scraper of horseshoe and a gun with central percussion, the plates are out of mother-of-pearl.
The whole is presented in a unit "flies and moulds at ball at the scale" beside a mould at ball natural size. Although they are miniatures, these parts function like the original ones.
Scarcity of these parts in fact their value!
GG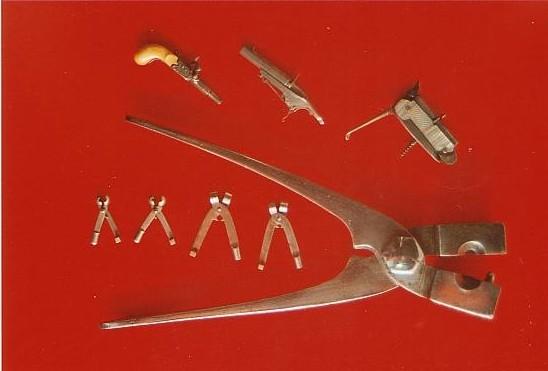 Laport rifle
Very interesting double percussion. Barrel rib reads "Trochado Damasco Casa LaPort"
Overall length 47" barrels 31" mic out at .43-.44. Octagon to round.
Carved stags head with glass eyes. Ramrod.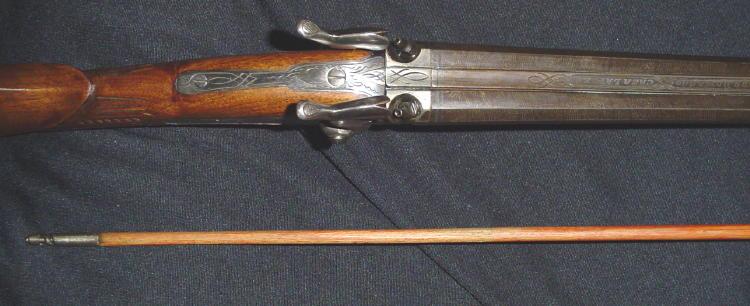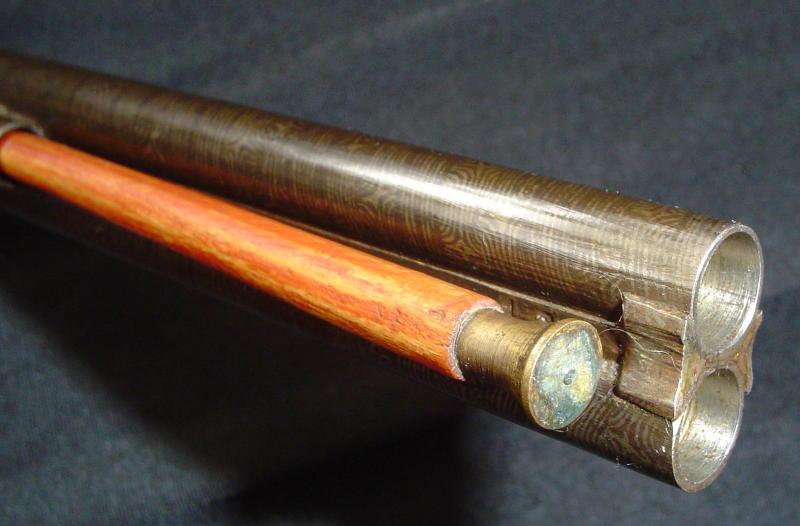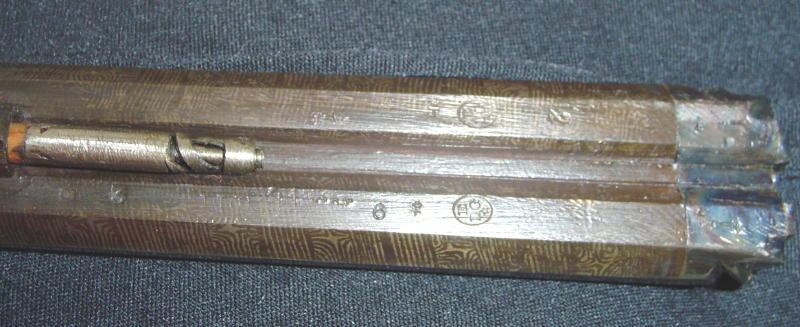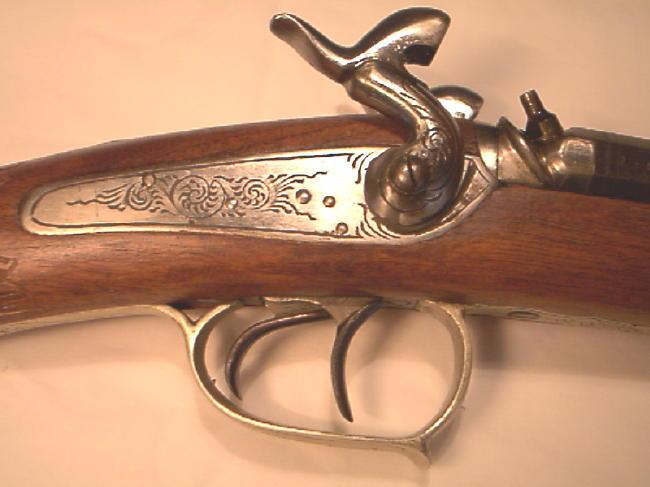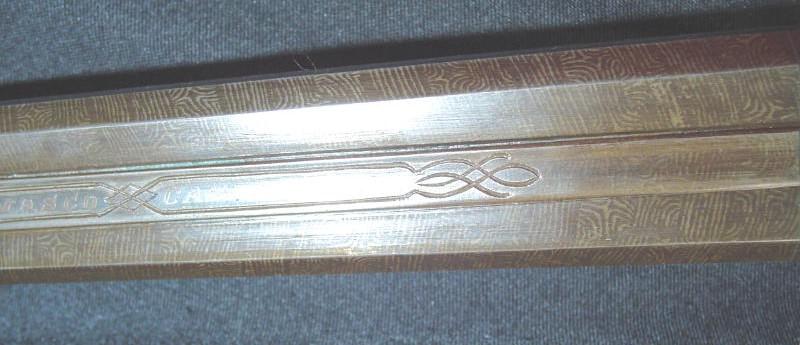 Emile LAPORT & Cie
Brazilian rifle
The weapon.
It acts of a rifle with percussion and two shots.
The gun is in Damas and the grip in drowning is "with head" to the Frenchman. She is equipped with one limps with new silver starters in form of shell St Jacques of a model enough running. This a little extravagant type of grip was very appreciated in South America.
Punches.
We rise on the photographs two punches of the bench of test of Liege are:
The Peron: inspection - punch used of the 16.06.1853 until todays.
V spangled: countermark of the controller - punch used of the 27.01.1877 to the 26.02.1968.
The manufacturer.
The weapon carries several trademarks as CASA LAPORT.
Alexandre LAPORT born in 1782 and of origin of Liège expatrie in RIO OF JANEIRO in BRAZIL.
It in 1825, was installed with the corner of the streets of Alfandega and Dos Ourives, where always the seat of house LAPORT in the country is. This house was specialized in manufacture, export and sale overseas of the weapons of all kinds, ammunition and accessories.
TROCHADO DAMASCO (if I read well) is the Portuguese mention of "DAMAS TORCHE"
Mark EL and two rifles crossed under a crown in an oval was deposited by the Establishments Emile LAPORT & Co street Charles Morren, 26 in Liege the 20.11.1920.
This last date thus indicates roughly the date of manufacture of this weapon.
This type of obsolete weapon for the time was tardily manufactured because the South American natives more easily found and at less price, of the detonating agent and in the jungle that cartridges with central percussion.
GG