Some of the most beautiful work of this craftsman, and many others, are in this book "Liège Gunmakers through their Work. 1800 - 1950".
For more detail see: LIEGE GUNMAKERS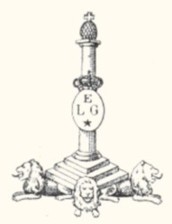 Laport Familly
Here a small history of the firm LAPORT:
It is in 1818 that Alexandre LAPORT born in LIEGE in 1782, embarks for Brazil with an aim of trading there and to install the arsenal of Rio de Janeiro.
In 1825, it is installed in this city with the corner of the streets Alfandega and Dos Ourives. It dies in LIEGE the 7.01.1855.
Meanwhile its sons Louis, Henri and Guillaume were associated in the company under the name of Alexandre LAPORT & Fils until 1859 then under name LAPORT Frères.
Guillaume LAPORT will be registered with the proofhouse of Liege since 1850 until 1863, then under name LAPORT Guillaume & Co until 1900. He will deposit sixteen Belgian patents.
Mde Veuve Louis LAPORT repurchasing with his parents goodwill becomes single owner about it and the corporate name becomes Veuve LAPORT & Co.
With his death, his son HENRI changes the corporate name the OI.OI.1874 into a Henri LAPORT & Co. It will remain until 1895.
In 1896, Emile LAPORT son of HENRI, changes the corporate name into a Emile LAPORT & Co.
In 1913, with some friends who bring funds, it creates a limited company of which he becomes the chairman. The activity of the company was centered on manufacture, the export and the sale of weapons overseas.
There were also ammunition, hardware, accessories etc.
In 1918 company LAPORT represents various Belgian companies in BRAZIL.
Other head offices LAPORT are founded in Morocco in Casablanca and Lima in Peru.
GG