Some of the most beautiful work of this craftsman, and many others, are in this book "Liège Gunmakers through their Work. 1800 - 1950".
For more detail see: LIEGE GUNMAKERS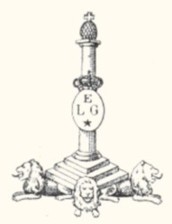 Larsen Auguste
Belgian A.Laren- Fils Liege , Brevete 16 ga single shot shotgun BoreVG, Mech VG plus, Has a 32" Part Oct Part Round barrel with twist pattern and orig. sights. The barrel is marked A.Larsen Fils Liege and the receiver is marked Larsen-Engh Brevete #520. The triggerguard lowers to open the action. Has a single set trigger. The receiver has fine engraving. Has a checkered wrist and forarm also has a horn endcap.
First time, but it is necessary one of them, that I see this system! The mono barrel is with sides with the thunder and then round in gauges 16. The trigger guard drops to open the system.
The evoked LAREN should be with my direction LARSEN Auguste, manufacturer of weapons, street Courtois, 34 in Liege about 1888! This Mister also manufactured appears it bicycles (see Who's Who arms manufacture of Liège).
There are also LARSEN H. & Fils street of Bayards, 50, registered with the BE of 1877 to 1882.
They deposited in 1879 a patent relating to a weapon of shooting to tilting barrel, patent n° 050100 of the 20.12.79.
This company then changed corporate name into LARSEN FILES & Co S.A. registered with the proof house of Liège of 1882 to 1887.
Finally the company became LARSEN H.C wire, street Trappé, 4 in Liege. It deposited 6 patents of 1882 to 1884 of which a system of rifle to vertical block and a system of weapon of precision in particular.
GG