Some of the most beautiful work of this craftsman, and many others, are in this book "Liège Gunmakers through their Work. 1800 - 1950".
For more detail see: LIEGE GUNMAKERS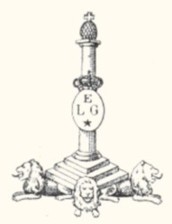 Larsen H. & Fils
LARSEN H & Fils (LARSEN H & Son) street of Bayards, 50, were registered with the proofhouse of LIEGE of 1877 to 1882.
The 20.11.1879, they deposit a Belgian patent number 050100 for a weapon of shooting to tilting gun.
In 1882, the company changes corporate name to become LARSEN RIFLE & Cie S.A. until 1887.
From 1882 to 1884, they deposit six Belgian patents concerning:
A weapon taking care by the breech.

A system of rifle to vertical block.

A weapon taking care by the breech with INGEBRETSEN G.

A system of weapon of precision.

A system of assembly of barrels of double rifle, without welding.
Not having the patents of this company at disposal, it is not possible for me to say to which your weapon corresponds.
Your hunting rifle if the barrel is smooth or rifle if it is striped would be of gauge 50-70 known as you.
This barrel is struck of a punch 11.0 of the proofhouse of tests of Liege which is the caliber in mm, used of 1889 to our days.
Punch EL in English letters is the provisional test undergone by the weapon, punch used of 1852 to our days.
It is about a system of loading by the breech using a lever-trigger guard.
The barrel with eight sides is fixed by two worked keys.
Wood mounting of walnut goes to the mouth of the barrel.
At the other end, it is provided with a buttplate out of iron.
The barrel is marked with fine gold H.LARSEN et Fils LIEGE indicating its origin.
Marking LARSEN-ENGH PATEND 547 evokes a common invention between these two characters but any document (Belgian patent) to attest some.
Word PATEND indicates probably an English patent.
Only one named ENGH, Casper de Bressoux (Liege) is known to have deposited of 1889 to 1897, nine patents including one with PAQUOT Joseph.
Marking 8360 is most probably a serial number indicating a relatively important manufacture for the time.
GG