Some of the most beautiful work of this craftsman, and many others, are in this book "Liège Gunmakers through their Work. 1800 - 1950".
For more detail see: LIEGE GUNMAKERS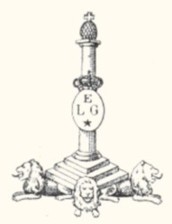 NIQUET
Gunmaker at Liège
Arnold Niquet or Nicquet (1650 - ?) son of Nicolas Nicquet and Ode Tirianno, Liège, Sainte-Marguerite parish, married to Anne Renier, supposed parents of
Arnold Nicquet als known as "Le Jeune" (Junior)-born between 1670/80 - ?, gun trader, named in 1734-1736, rue du Faucon (Falcon Street), Notre-Dame-aux Fonts parish, and
Claude Niquet (1692 - 27/2/1764), gun trader on the Pont d'Ile (Island Bridge).
This is the Niquet whose signature appears on numerous luxury weapons found in top collections. His first wife was Jeanne Jacquet (died 1736) and his second was Marie Judith Lejeune (1716 - 1772), who will give him 3 children:
Elizabeth, born in 1740
Claude Arnold (1742 - 1769) Vicar at Notre-Dame-aux-Fonts, and
Jean-Claude Nicquet (1744-1823), who was in the first place maker of military weapons.
He takes over the family business on the Pont d'Ile, in a house called "La Selle d'Or" (The Golden Saddle) during the 18yh century, and "l'Anneau d'Or" (The Golden Ring) at the beginning of the 19th century (cfr Gobert)
In 1778, he signs a contract with the British Government for the delivery of 20,000 muskets and bayonets and he also supplies the "Insurgents" of the 13 American colonies. He receives an order for 20,000 muskets and 1,200 riflemen swords from the Government of the United Belgian States (Brabant revolution) in December, 1789. The same month, an order for 20,000 rifle muskets and 12,000swords for the Liège Revolutionary Council.
In 1790, an order for 1,000 cavalry musketoons for the Brabant and carbines for the Tongerloo dragoons. In March, 5,000 muskets for Austria and in May another 1,000 muskets and 1,000 swords for the Brabant province.
In 1791, the French Government files an order for 30,000 rifle muskets of the 1777 model with bayonets, to be delivered at the rate of 2,000 pieces a month. In August, 1796, he delivers 2,417 swords and 300 bayonets for the 14th Holland Light Infantry Brigade.
While he was established in the rue de l'Etuve (Steamer Street) in 1803-04, the French Government will break his business (and also other makers of military weaponry) by giving Jean Gosuin the exclusivity for the whole production.
In 1805, he had a job as Cashier for the Commune of Liège. As he was single by the time of his death, the major part of his legacy went to his loyal servant.
HPH
Cfr Claude GAIER, in the Revue "Le Musée d'Armes" n° 79 - December, 1994