Some of the most beautiful work of this craftsman, and many others, are in this book "Liège Gunmakers through their Work. 1800 - 1950".
For more detail see: LIEGE GUNMAKERS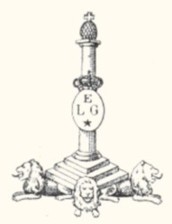 RONGE Jean-Baptiste
Here is a large caliber revolver with six rounds in . 44 CF type Smith & Wesson First Model DA, manufactured or sold by Liège-house JB Rongé.
See the crowned JBR marking which corresponds to that of the second revolver visible on this page.
The absence of a visiting hatch on the left is typical of the Liège revolvers of that time, whose mechanism is much less complicated than the American ones, with only three moving parts.
The markings
R crowned: rifled barrel, in use from 1894 to 1968
L crowned: already met but not identified
AH (?) under star: countermark of a controller between 1877 and 1968.
There should still be at least one other punch on the barrel, an ELG on a star in an oval crown, indicating that the weapon passed to the profhouse of Liège between 1893 and 1968.
GP with the help of MC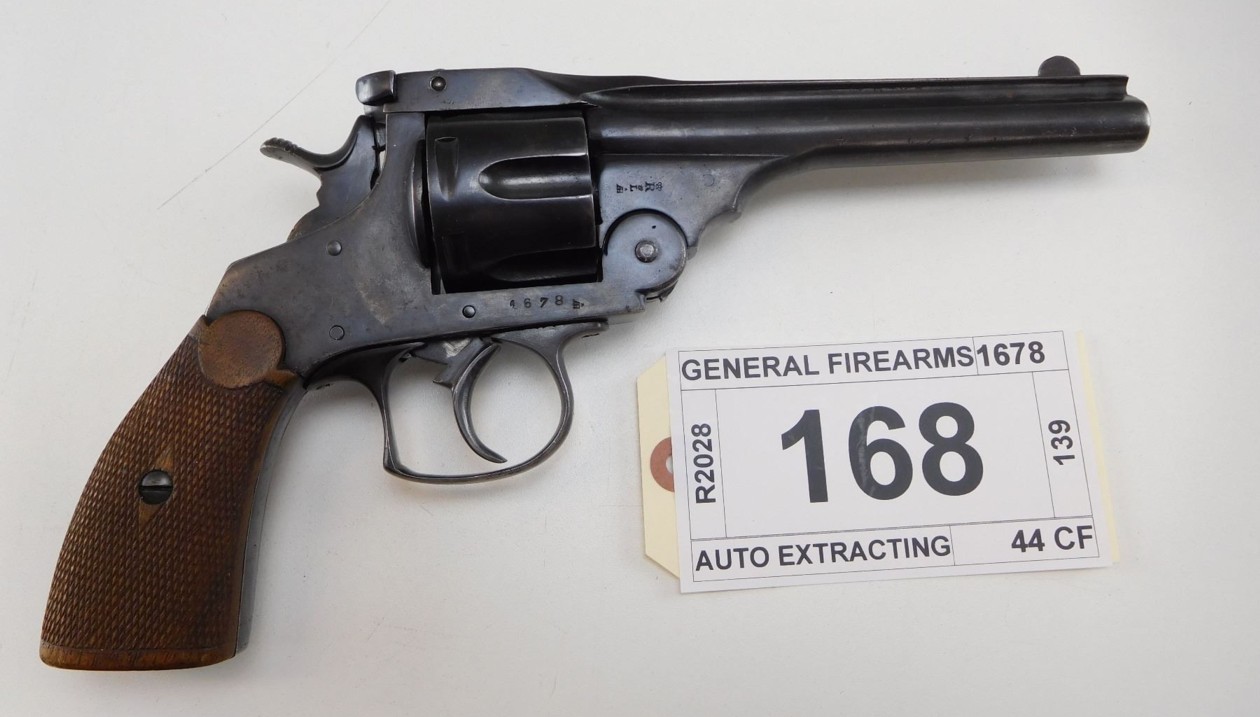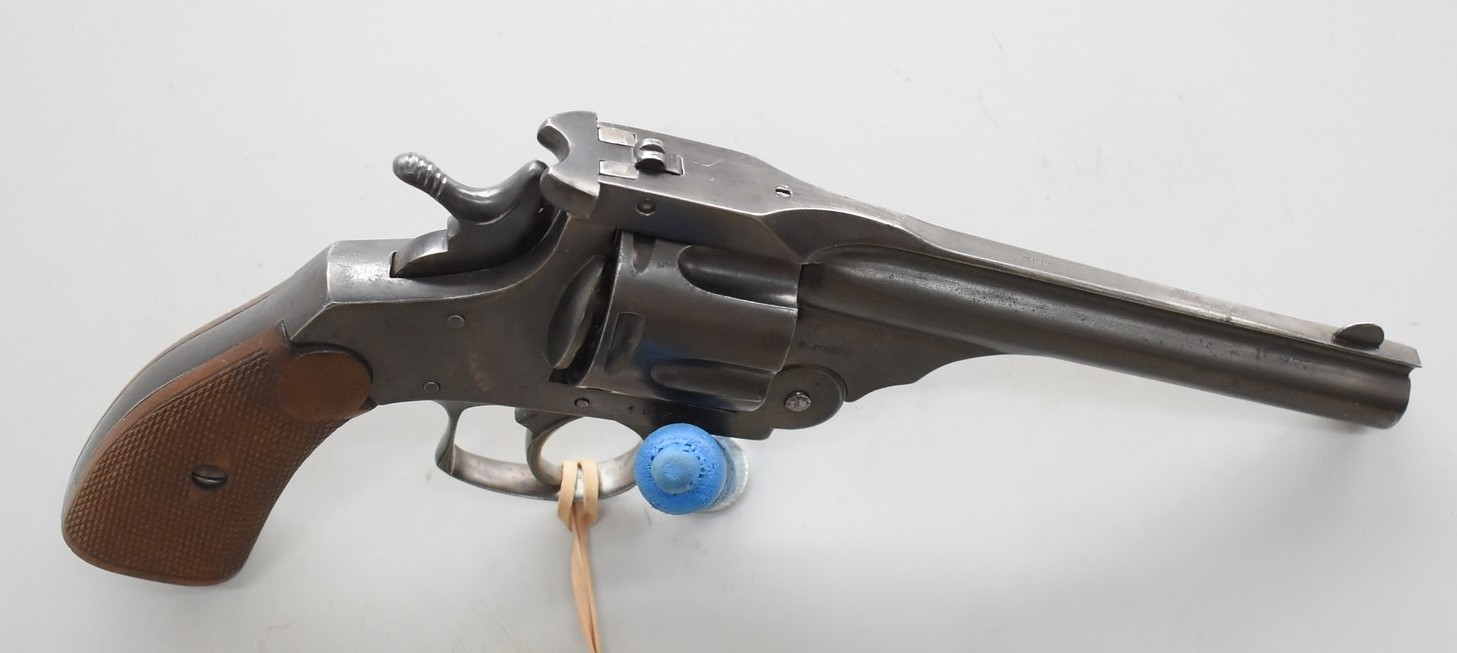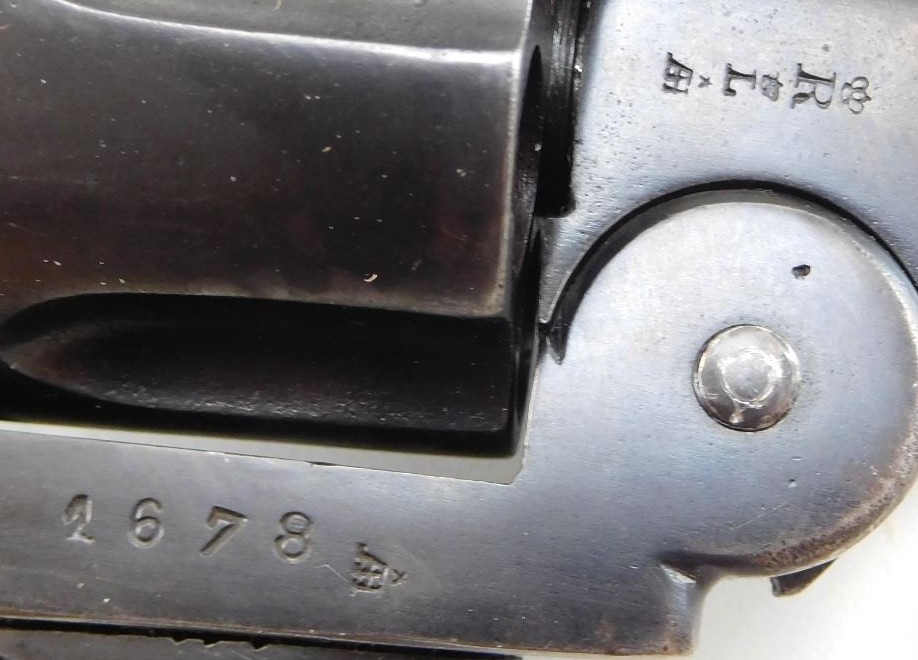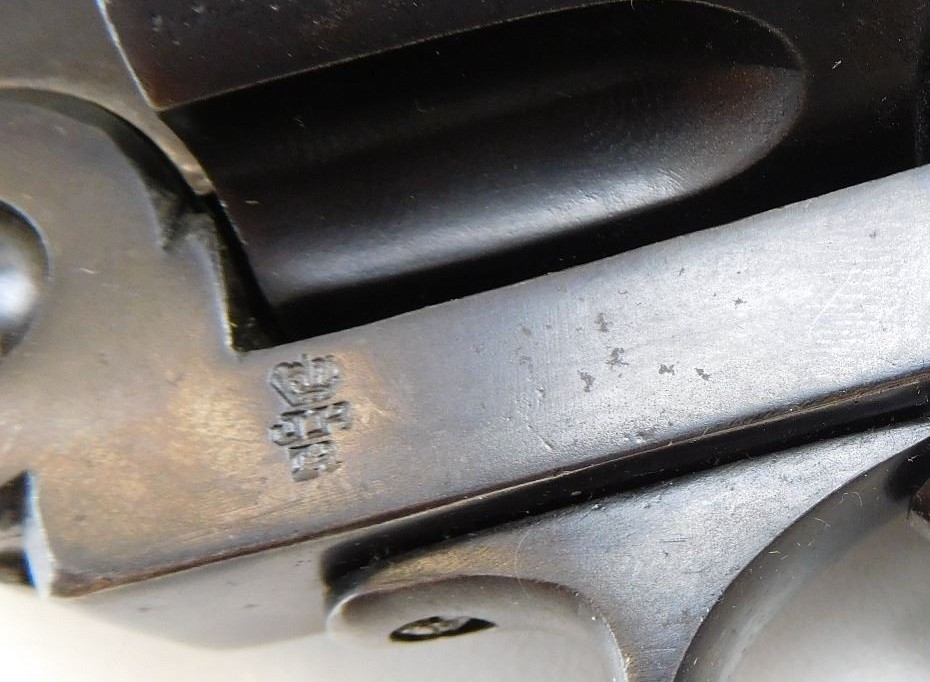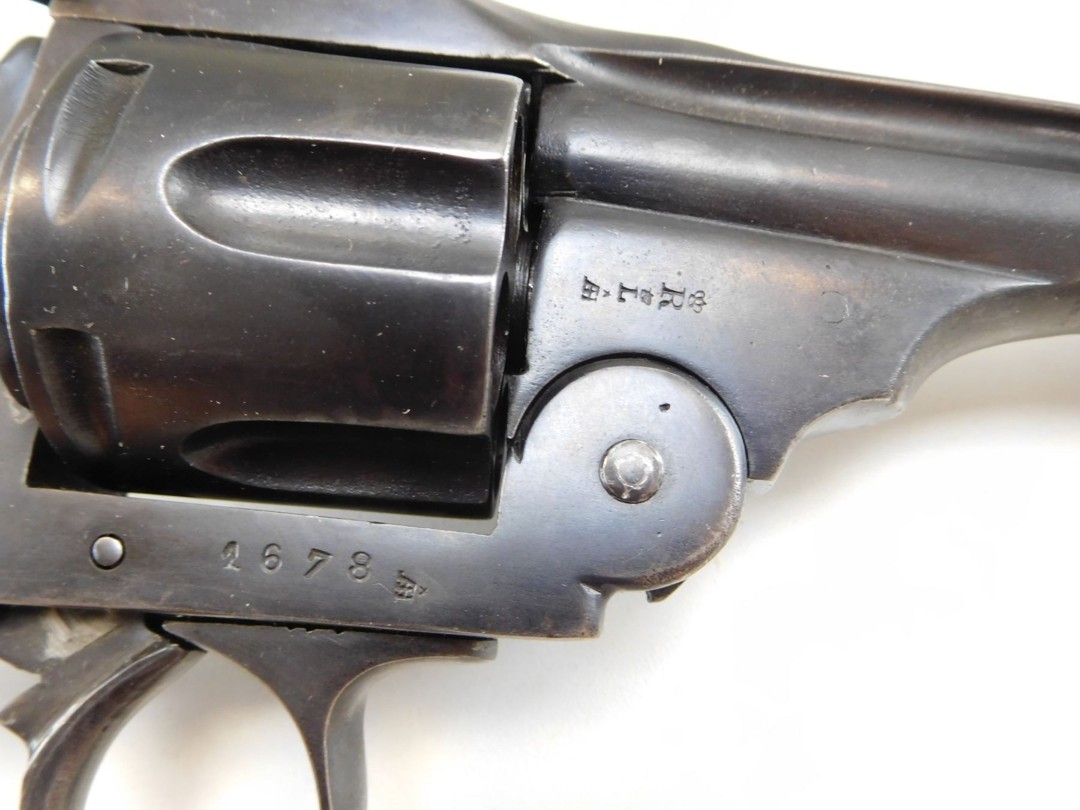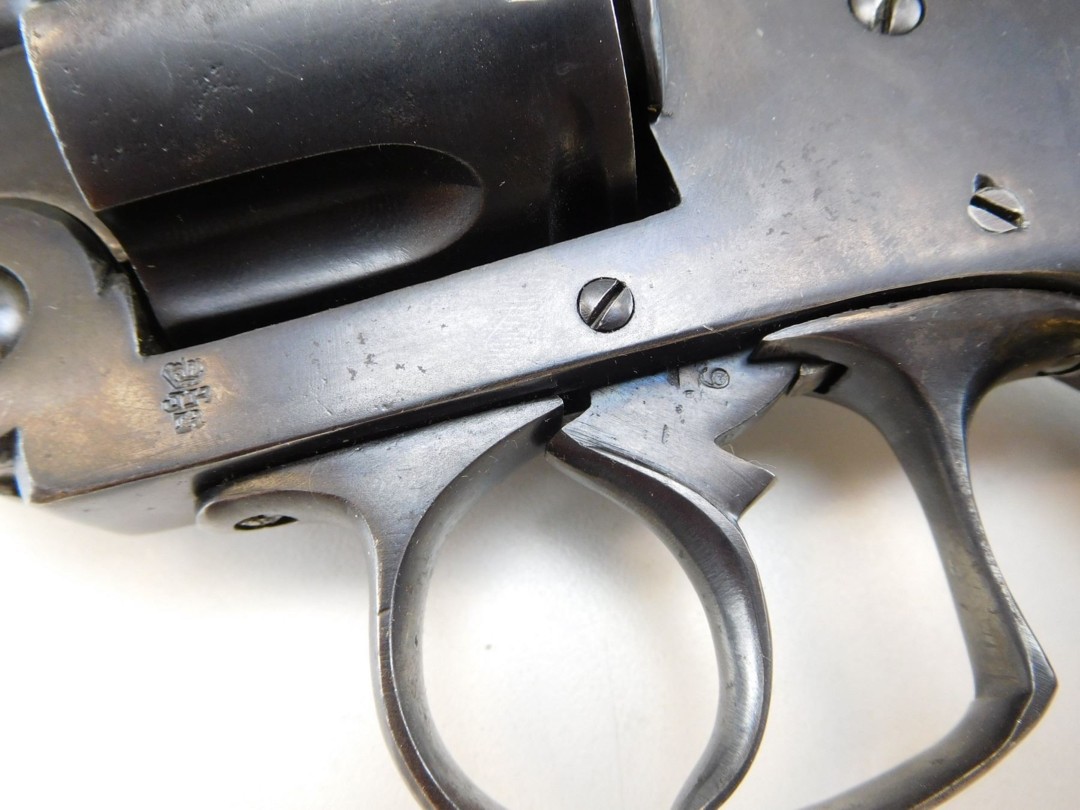 RONGE Jean-Baptiste
Here is a juxtaposed shotgun of English manufacture.
The guns come from the well-known manufacturer Andrew & C° Ltd Toledo Steel Works in Sheffield.
See the site below :
https://www.flickr.com/photos/shefflibraries/6867598556
It is the same manufacturer who had supplied the barrels of the beautiful rifle of Fernand Thonon already examined in the notice below :
It's a 12-gauge.
It was punched at the London Proof House after 1904 (as a semi-smokeless) and before 1925.
In the six-pointed star surmounted by a crown that can be seen on the weapon, one can distinguish the initials JBR attributable to the belgian manufacturer Jean-Baptiste Rongé.
Although the initials here are in a star and not an oval, there's almost no doubt it's Jean-Baptiste Rongé.
"Could it be a part made in white by Rongé with a specific logo for export" one team member rightly suggests.
GP with the help of PHL.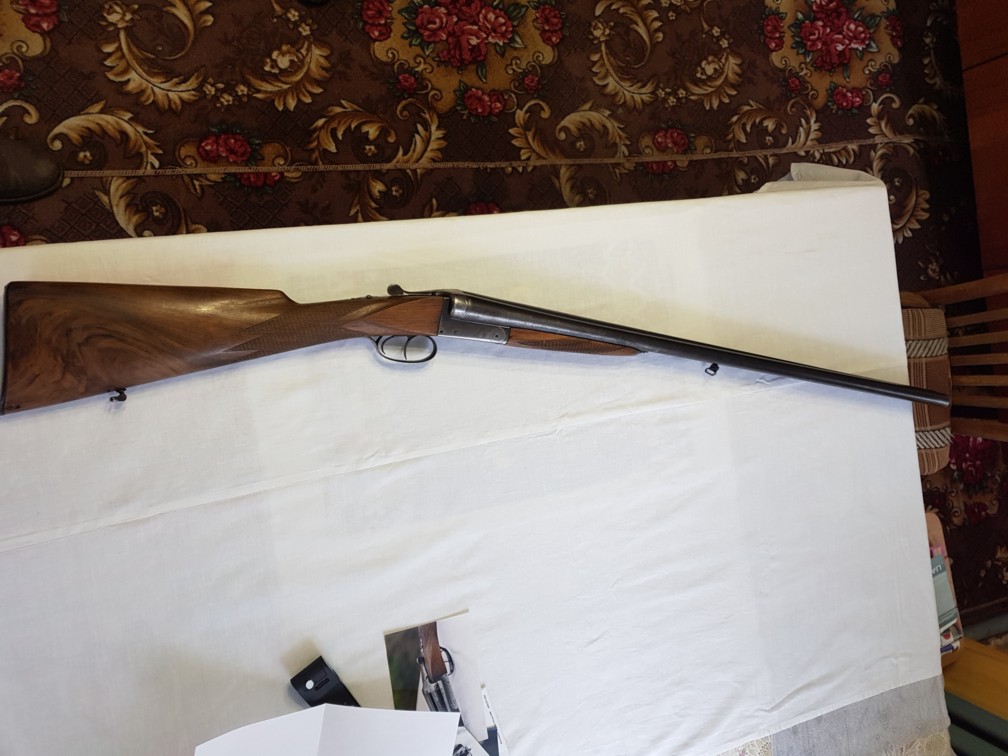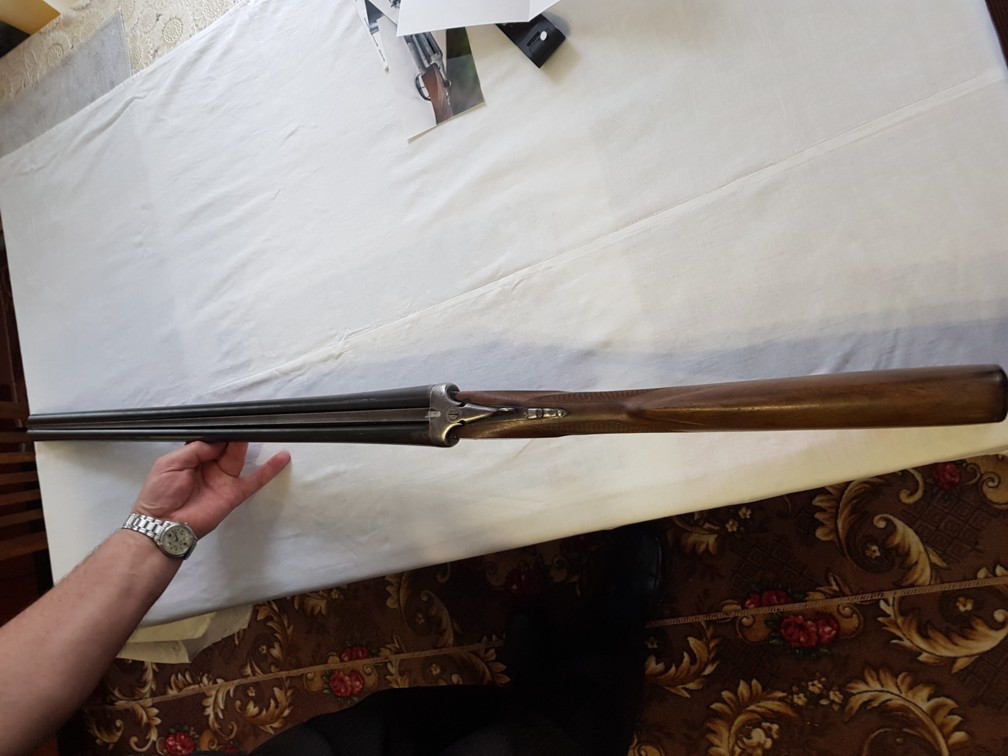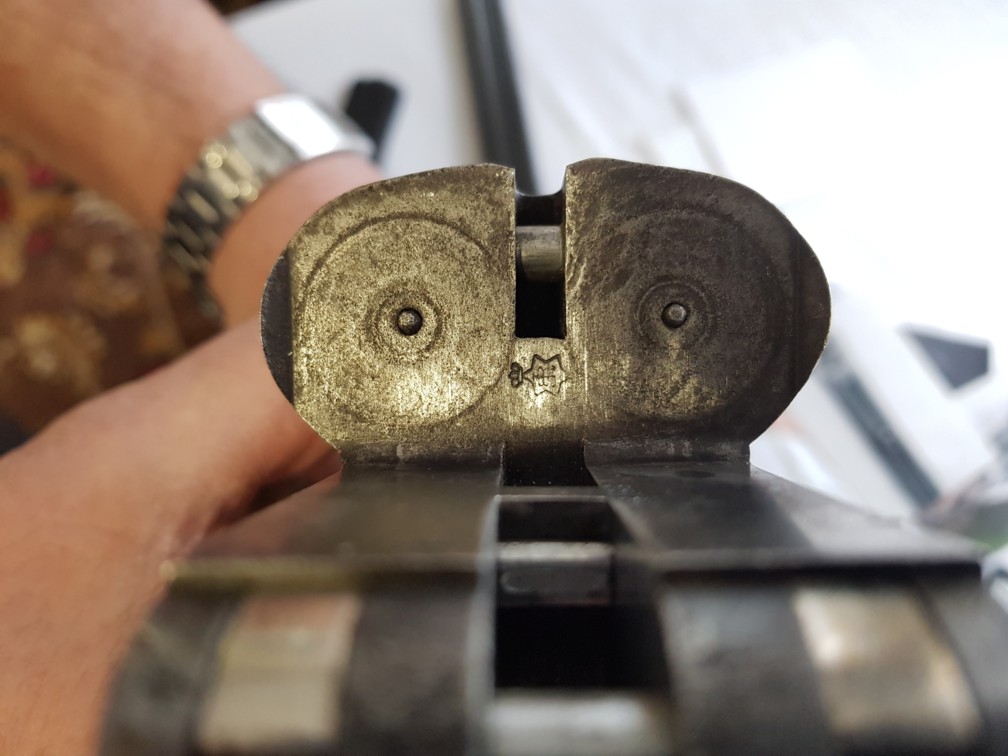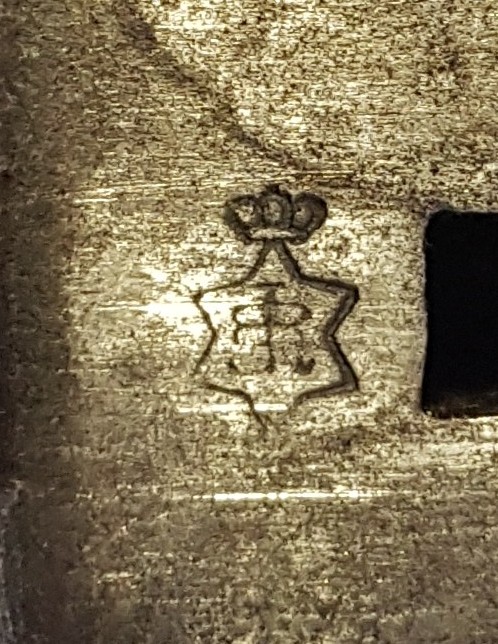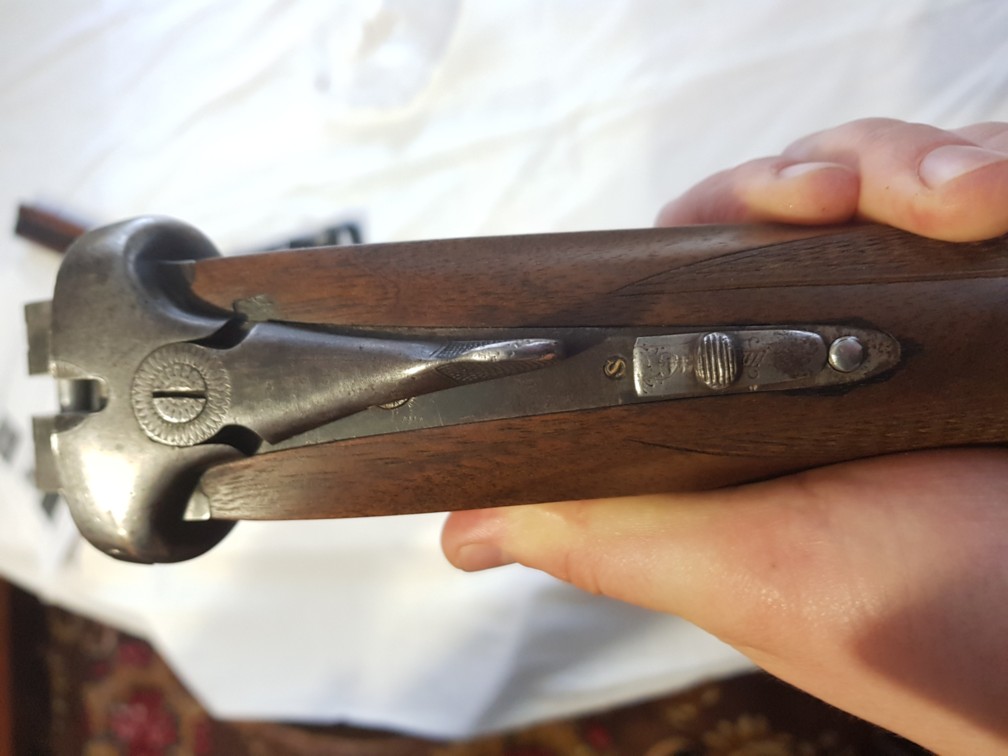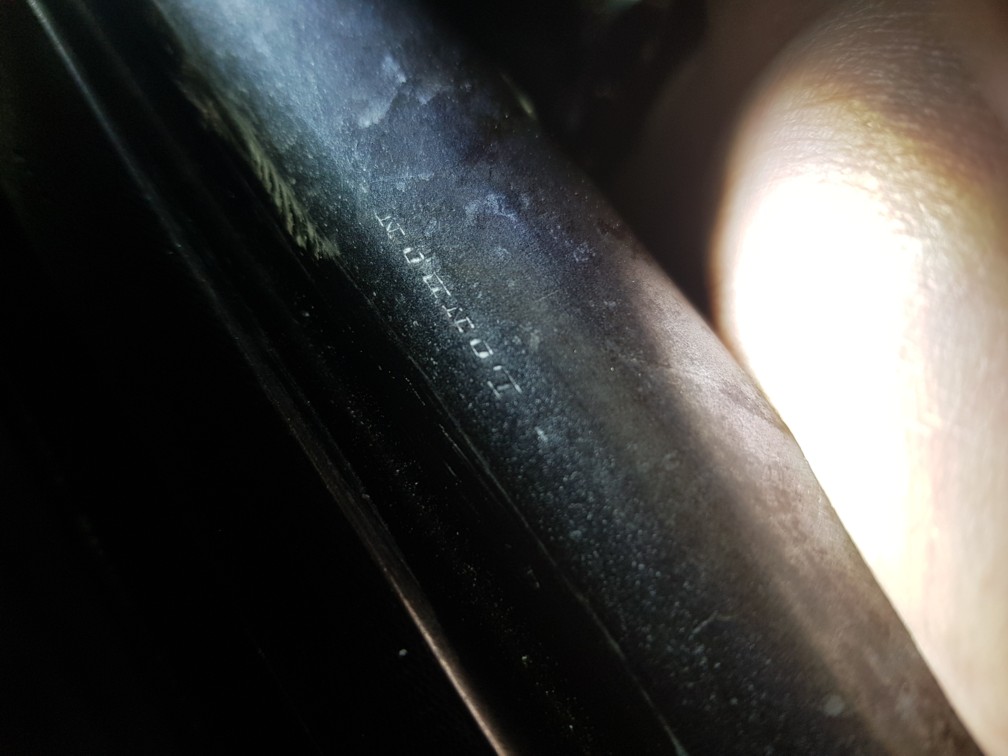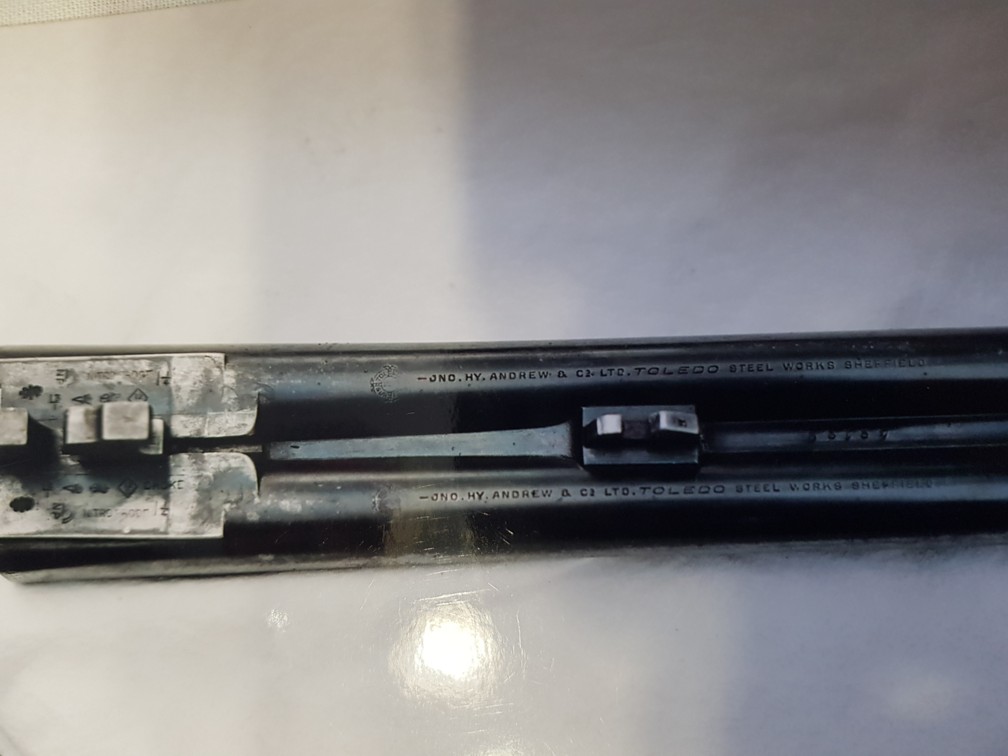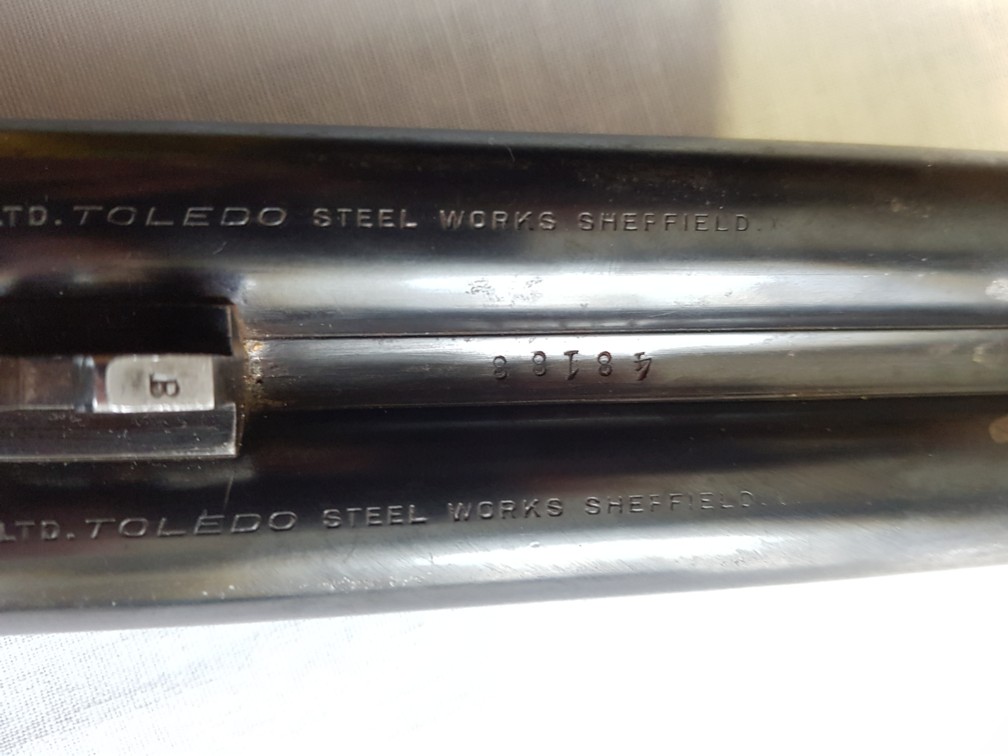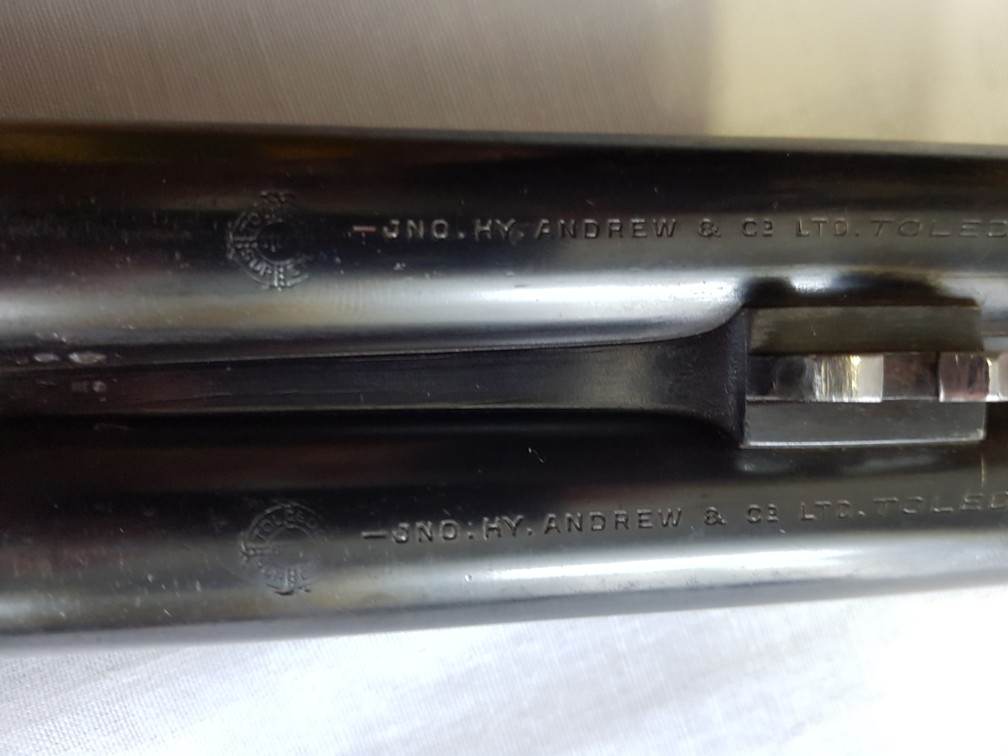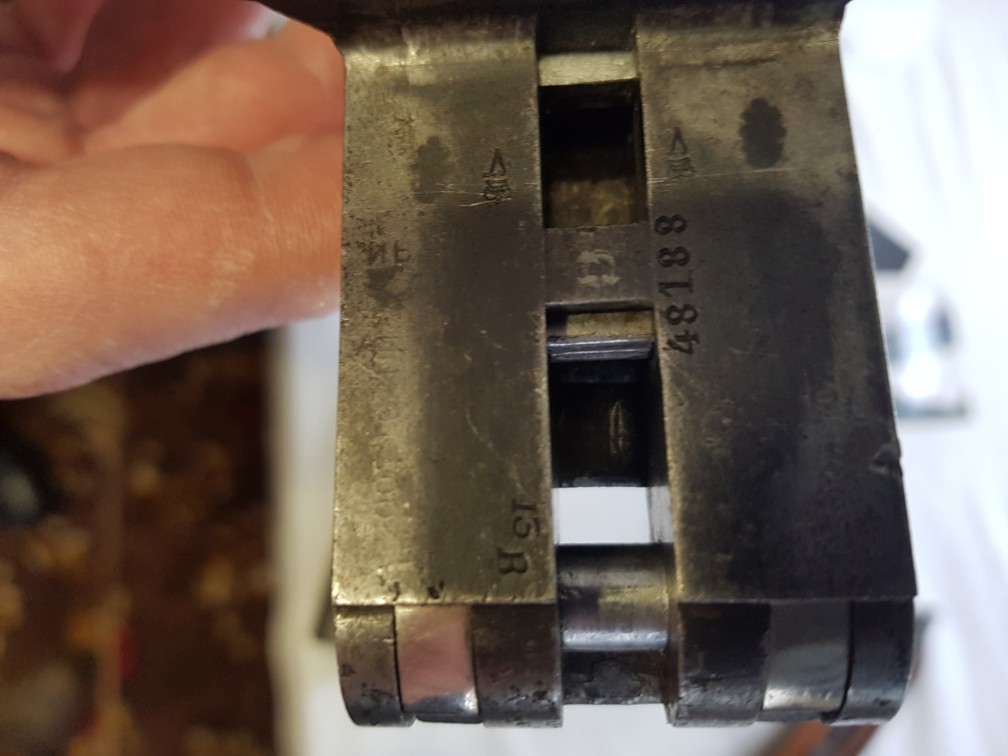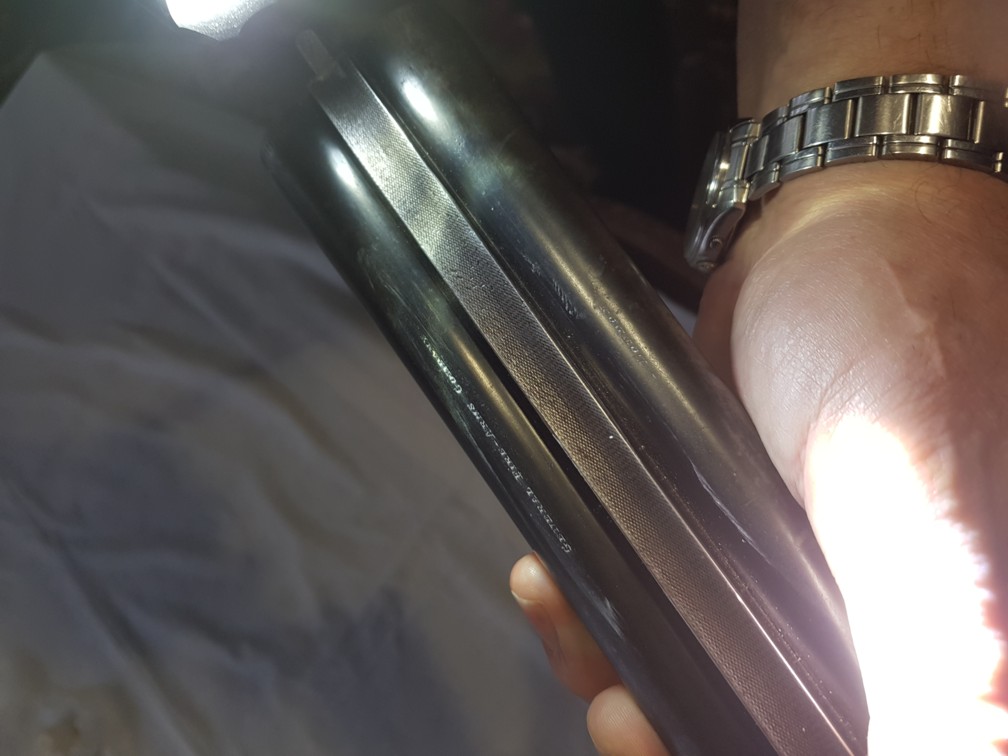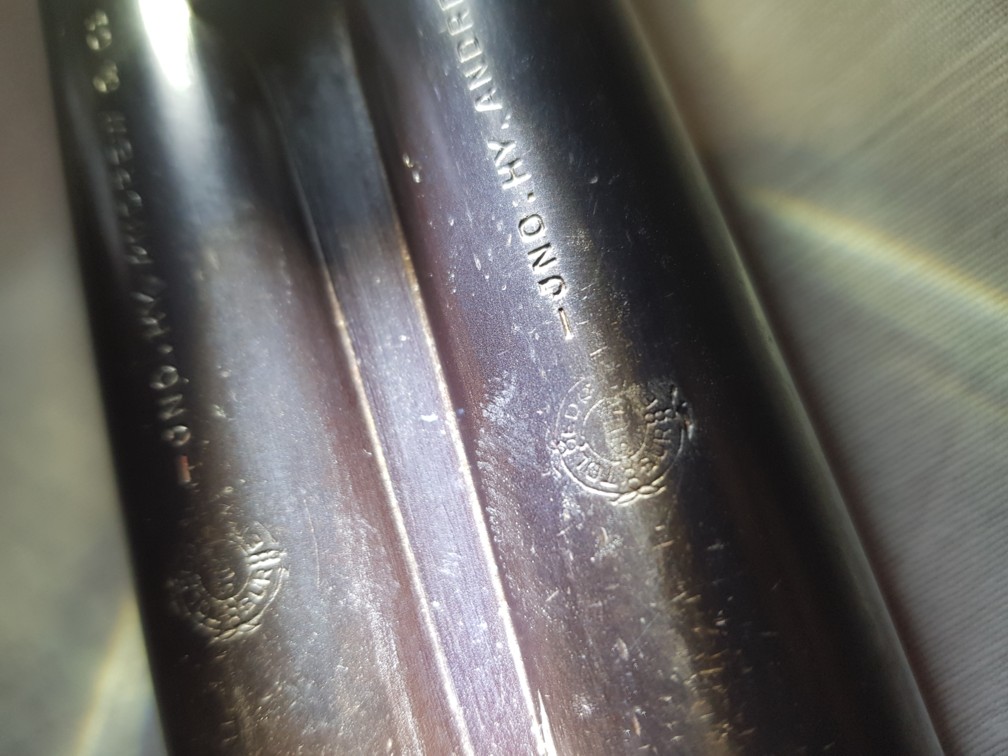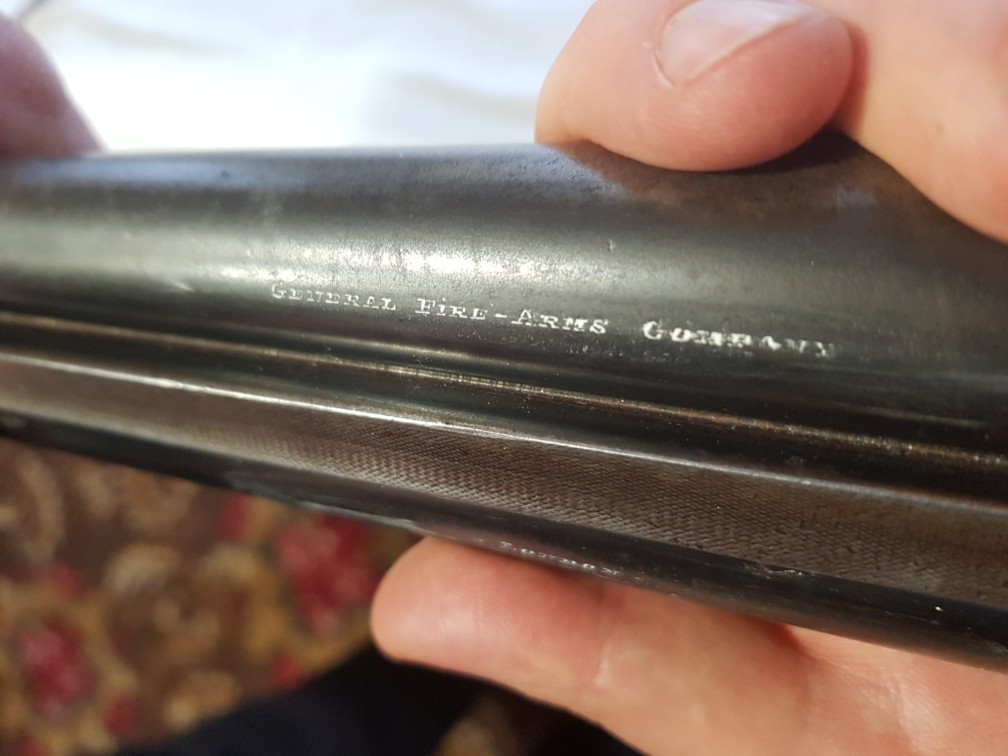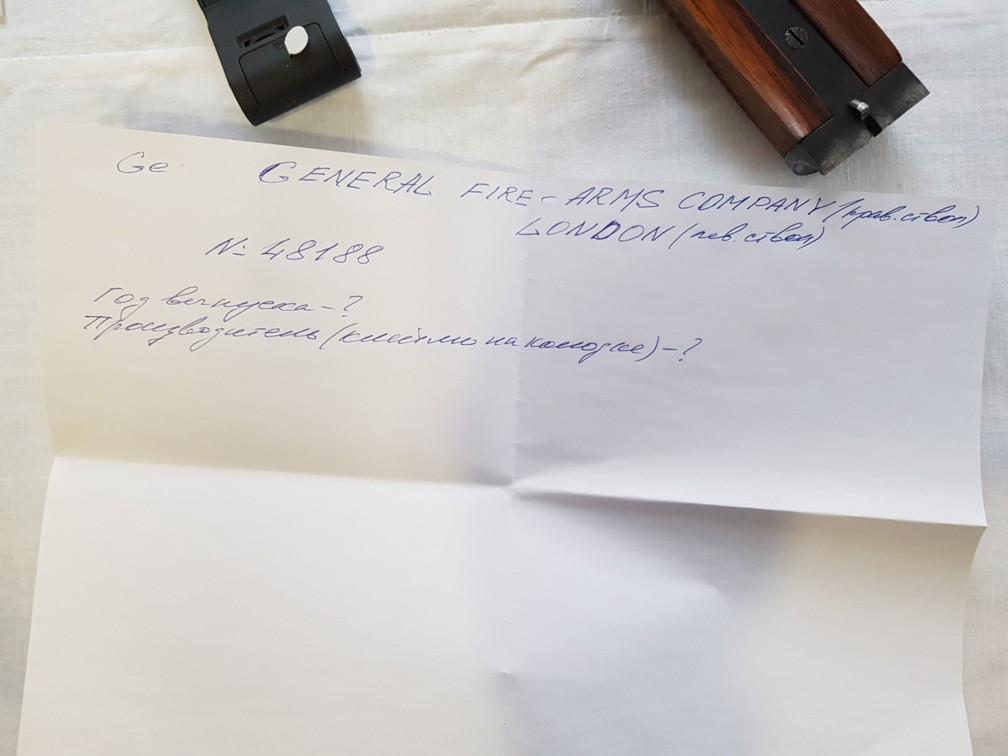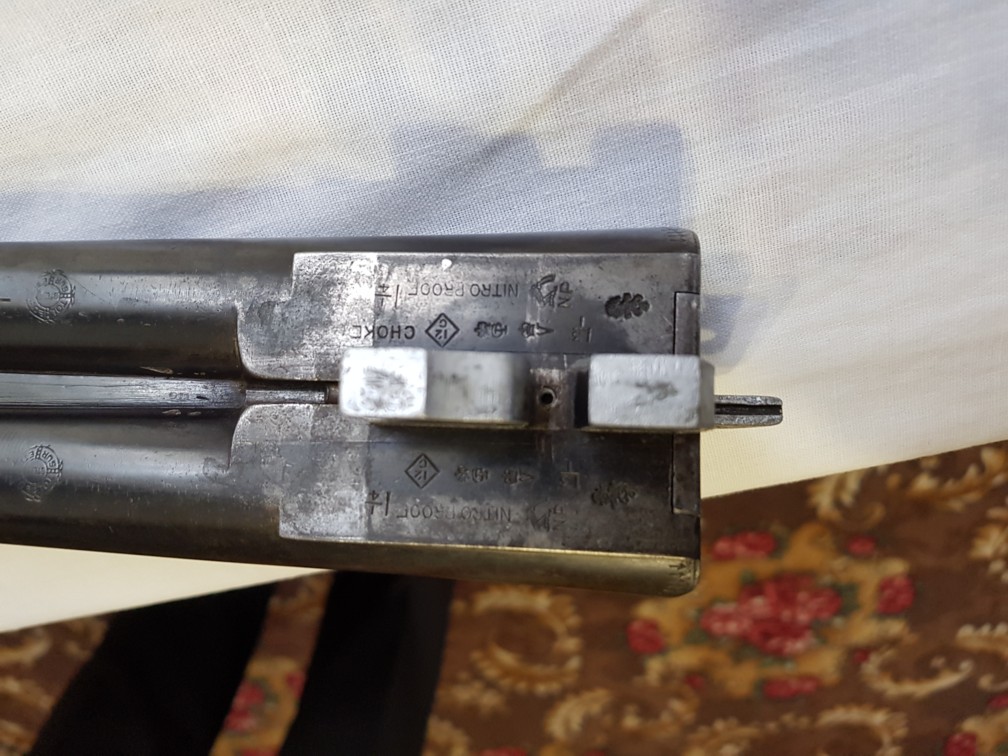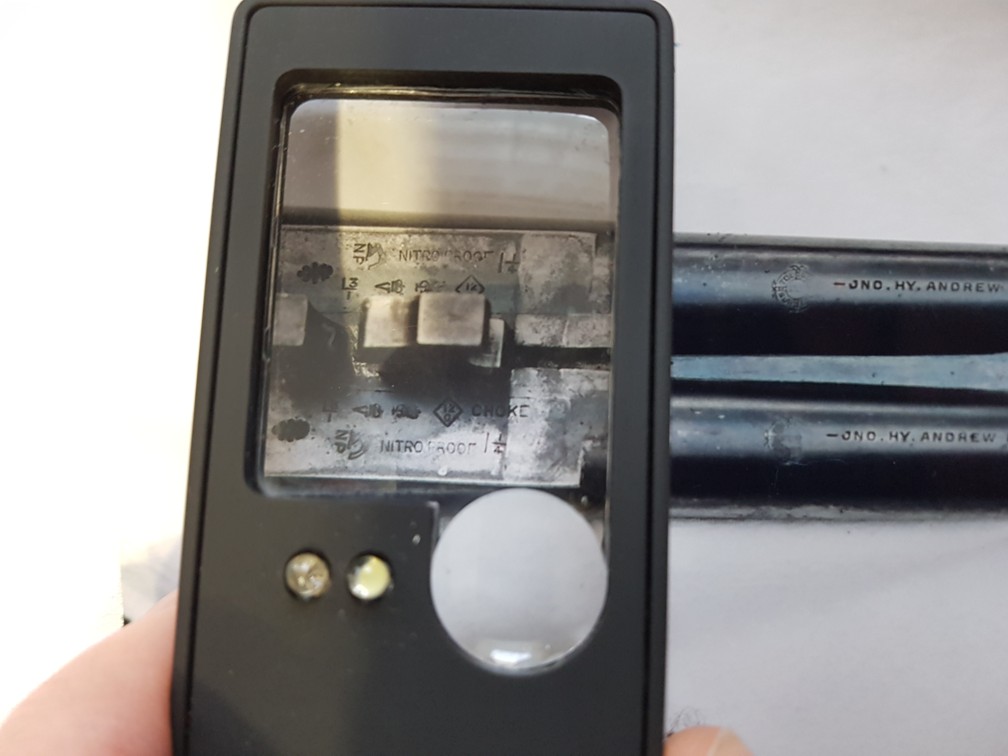 RONGE Jean-Baptiste
It is about a revolver top break Dieudonné LEVAUX with central percussion. This weapon was the subject of a patent filling the 15/02/1876 under the n° 38750. (See page LEVAUX on the website) the cylinder is with 8 sides then round carries a rectangular front sight placed dovetail. The cylinder is with 6 shots. The calibre is not indicated. The grips consists of two plates of walnut squared joined together by a screw placed to the bottom of the grips, established fact rather unusual. The brass screws are with 2 notches and they claim a special screwdriver! This stick ends in a ring of cap and its screw-pivot.
Punches
The weapon carries the lawful punches of the proofhouse of LIEGE, namely:
W spangled: countermark of the controller, of use of 1877 to 1968.
R crowned: rifled bore. In use of 1894 to 1968.
The "ELG crowned in a crowned oval" which is final acceptance is not visible on the photographs! Perhaps it is it on the internal face of the cylinder ?
Marks
This revolver carries the following marks:
720: serial number.
Spangled J.B.R. in a vertical oval: Revolver LEVAUX was manufactured by several firms of Liège of which in particular LEPAGE, ANCION-MARX and also Jean-baptiste RONGé as us this trademark proves it. This firm was located in LIEGE places Saint Jean, n° 4 (see the site).
Marks DENMARK and S.A. crowned are Danish military marks.
GG
Photos Littlegun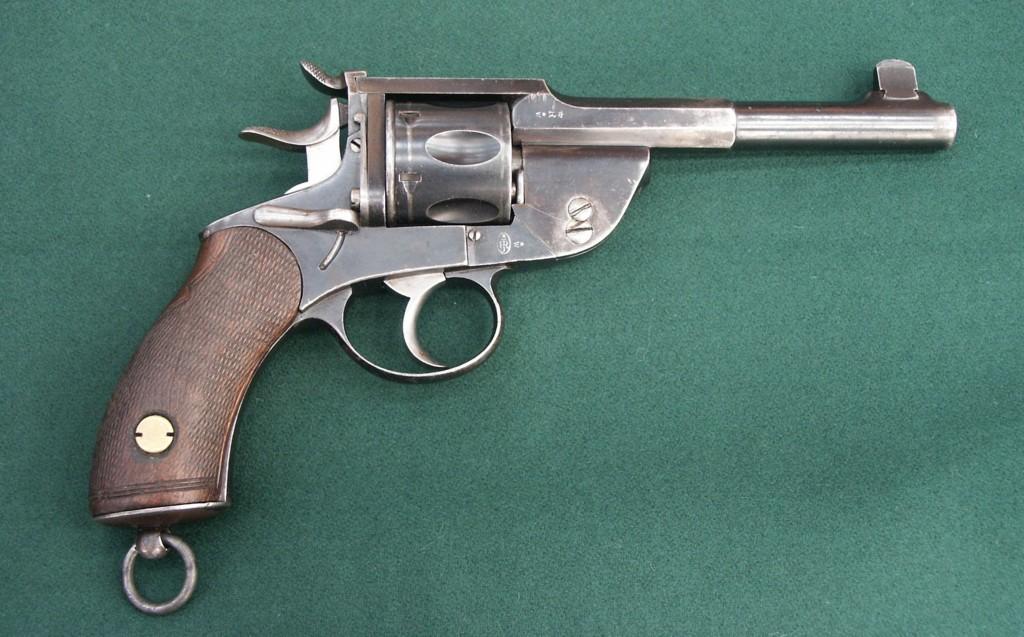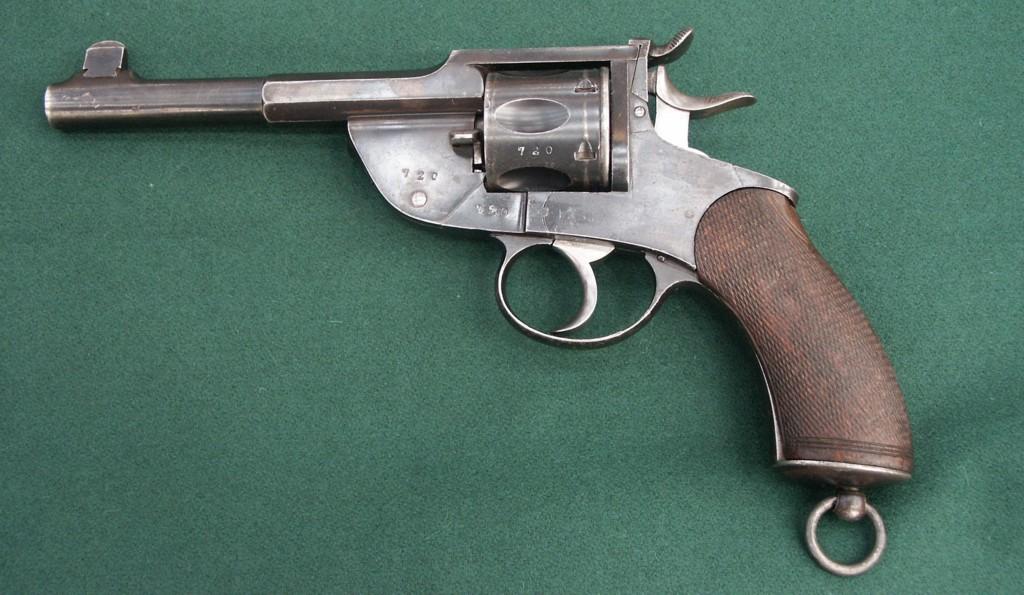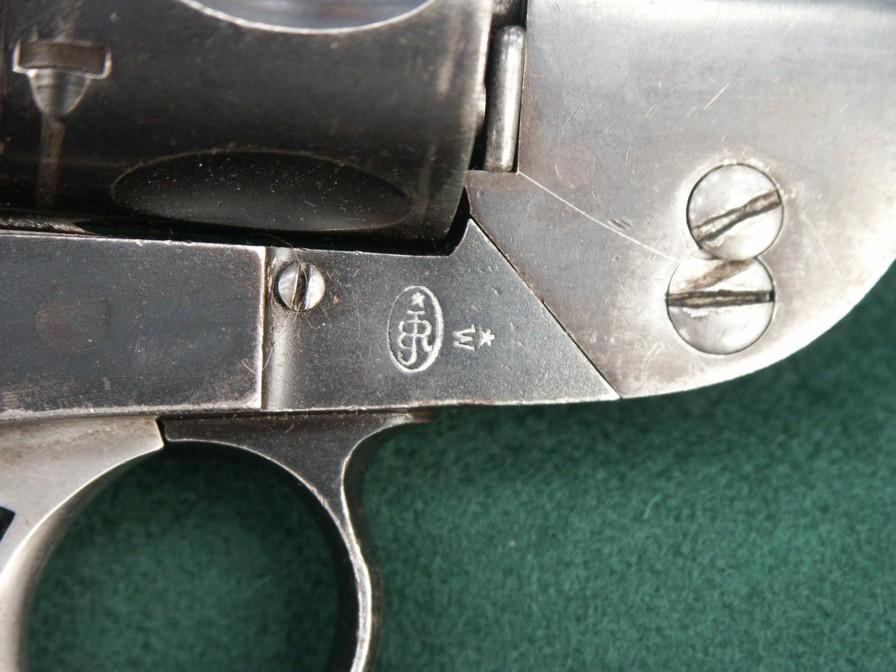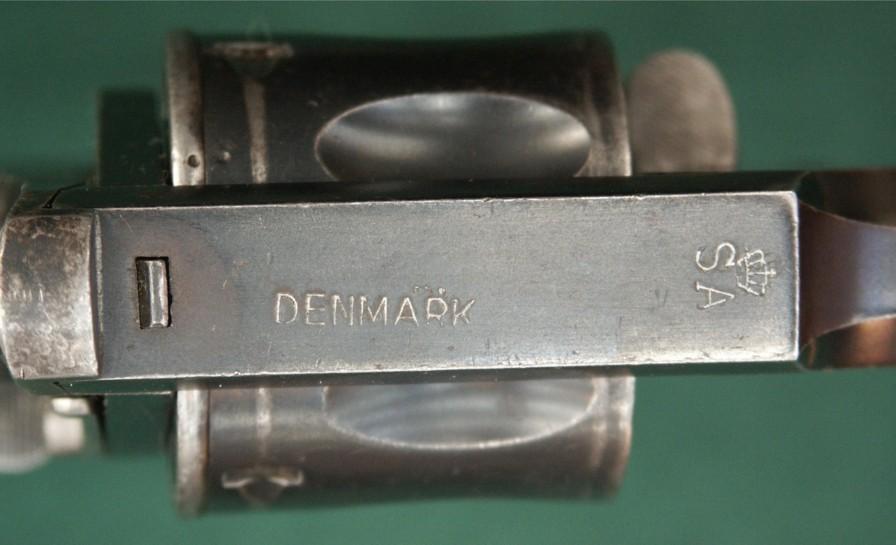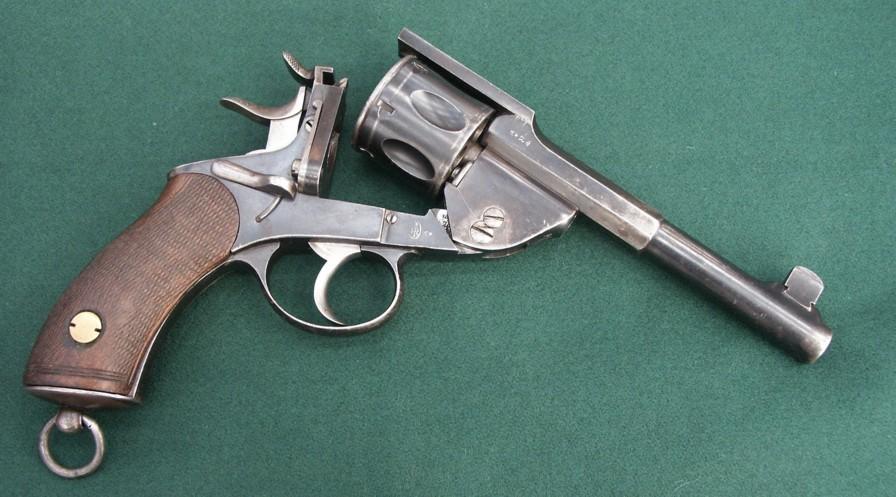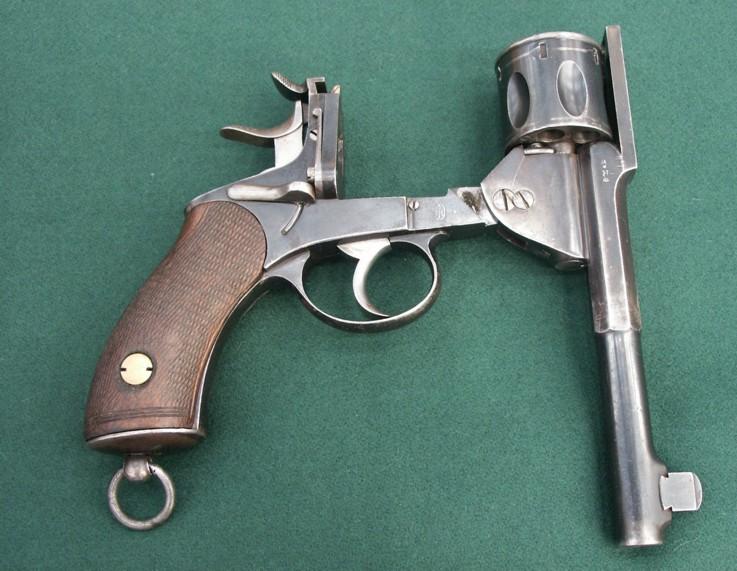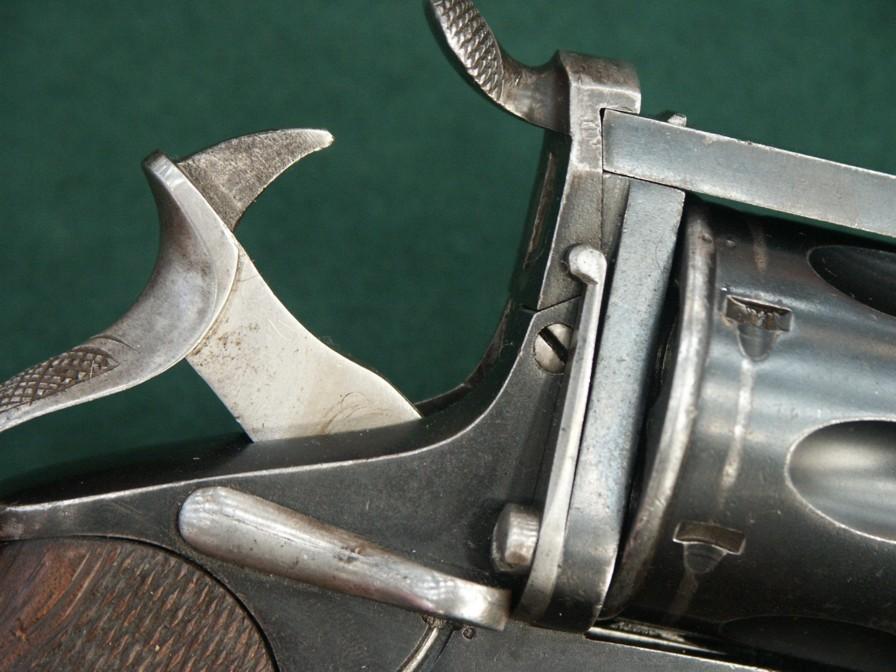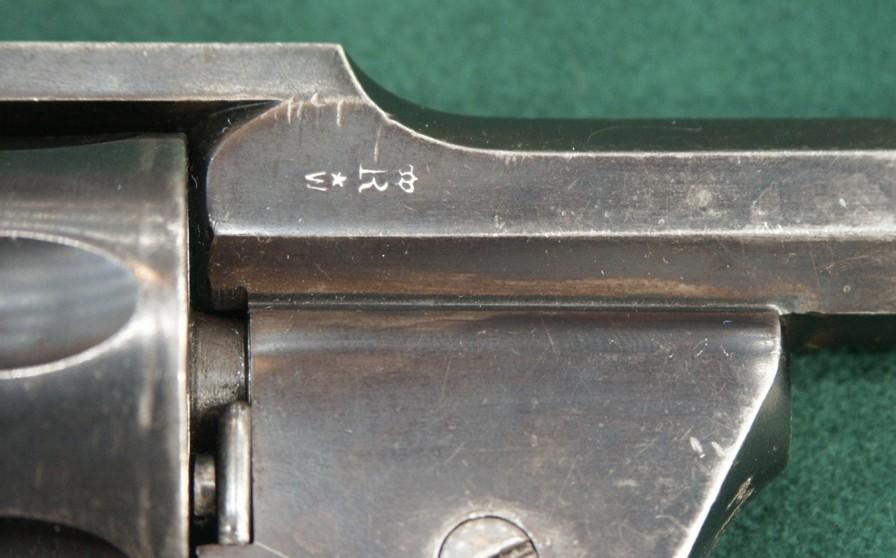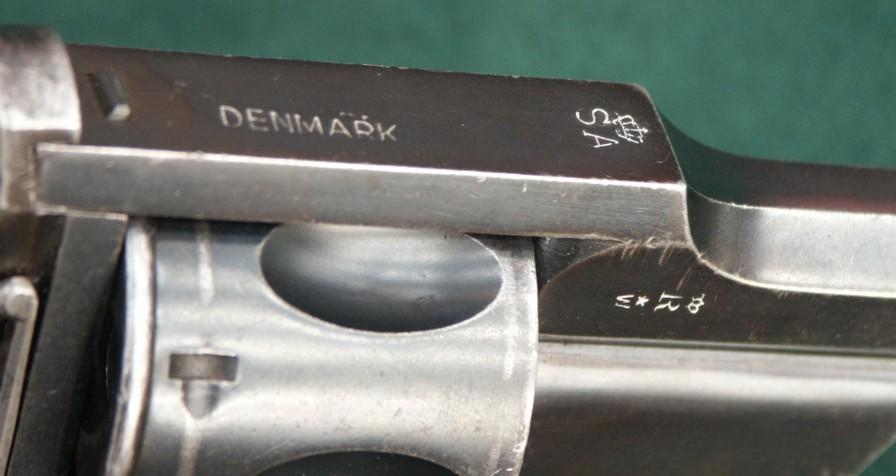 Manufacture d'armes RONGE Jean-Baptiste fils S.A.
It is about a revolver pinfire, with opened framework, of Lefaucheux type.
The octagonal barel is equipped with a front sight in half-moon.
The metal rod slides in a guide integrated into the console and is maintained by a small spring. The photographs do not enable me to determine the gauge, of the 9 or the 12 probably.
The loading is practiced by a door located on the right side of the weapon. This door drops thanks to the action of an internal spring.
The trigger is placed under trigger guard.
The metal stick ends in a ring of "dragonne" and two plates in drowning smooth cover it. They are maintained by a through screw and two rivet washers.
It carries the lawful punches of the proofhouse of Liege, namely:
Spangled ELG in an oval: acceptance, of use of 1846 to 1893.
H spangled: countermark of the controller post 1877.
Period of manufacture: in all logic, between 1877 and 1893.
The manufacturer of this weapon is the Manufacture d'armes RONGE Jean-Baptiste fils S.A. places Saint Jean, 4 in LIEGE then place Xavier Neujean. The house would have been founded in 1789 according to their publicity but actually the period of inscription to the proofhouse is between 1832 and 1929. (See site)
Crowned mark JBR is well a mark of this company.
In 1929, the company is taken again by company A.R.M.A.F.
Marks GS - FF - LH struck the amounts of stick is markings of arms manufacturers' subcontractors. It should be known that the weapons of Liège passed in many hands sub-contracting before being presented at the "manufacturer" who was satisfied to find purchasers and their to sell! Unfortunately, these "small hands" were never indexed.
GG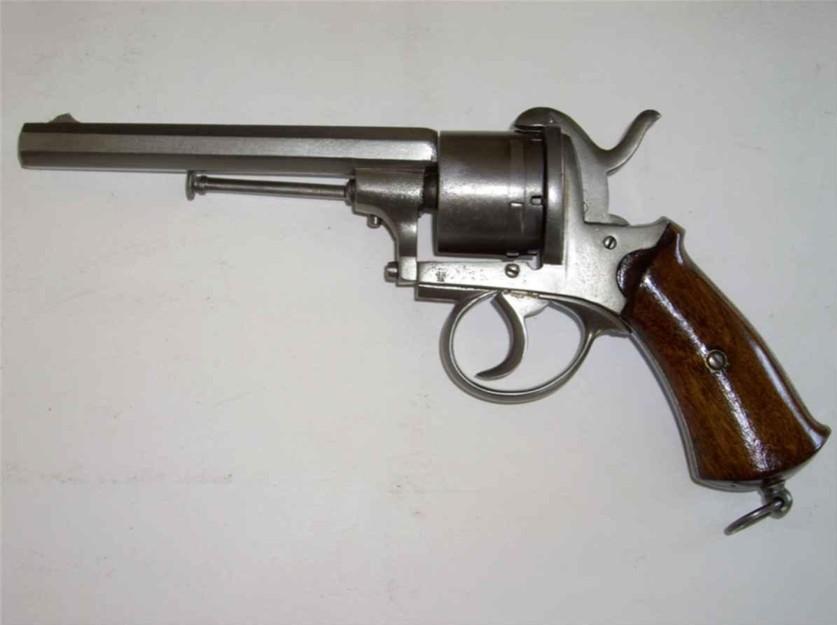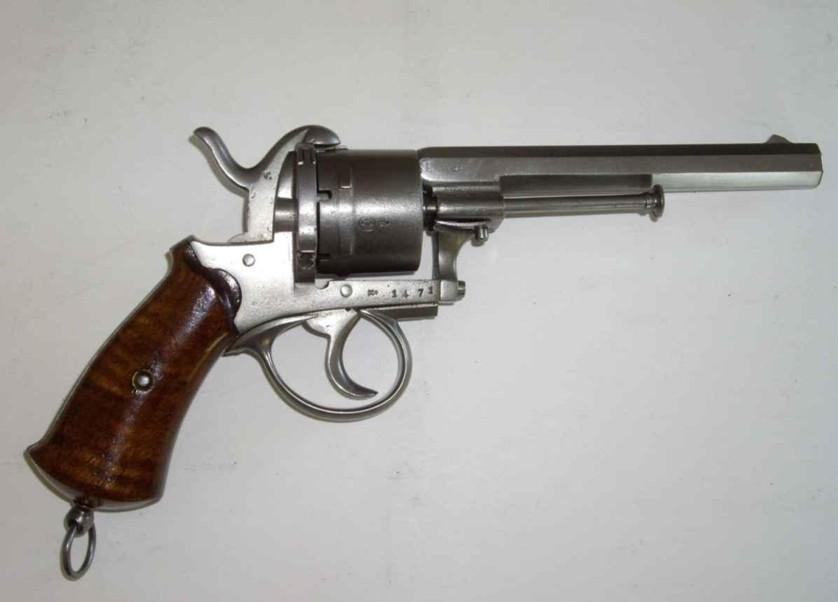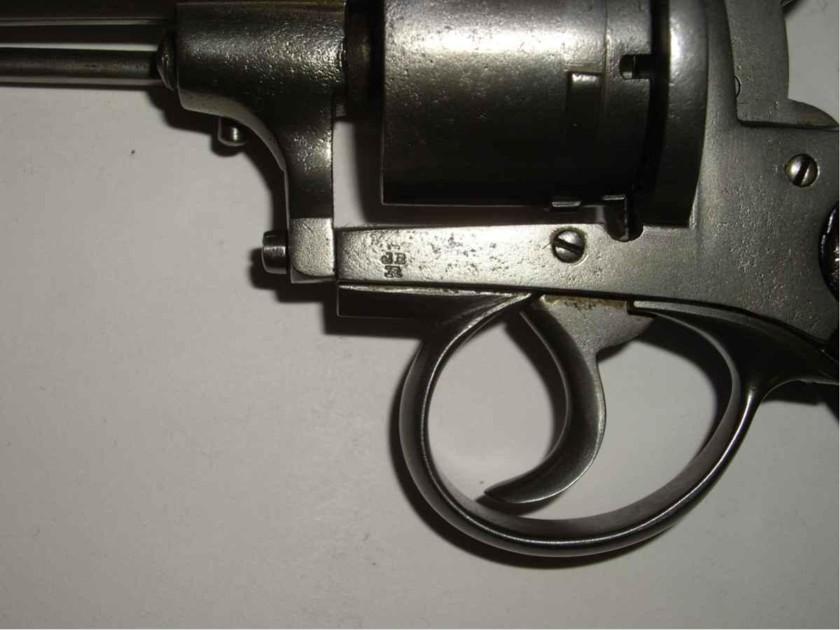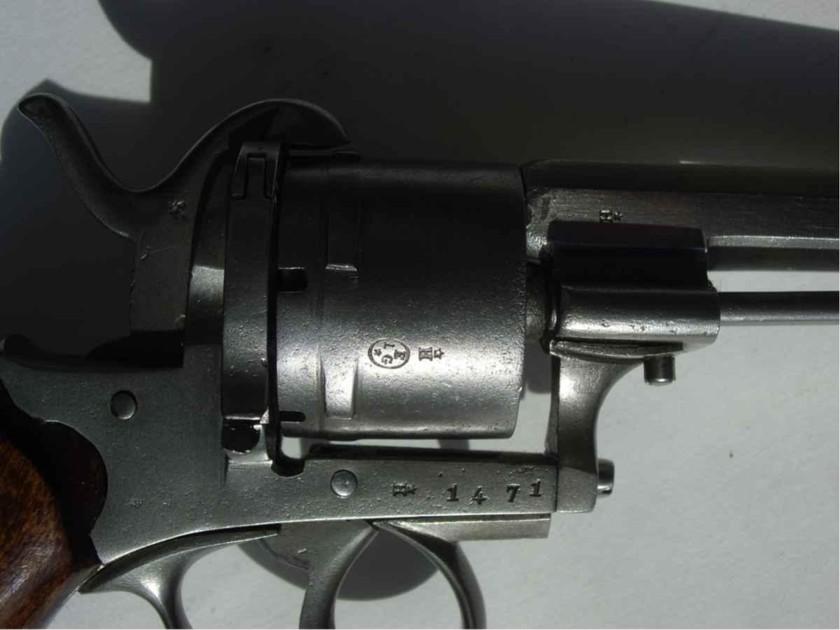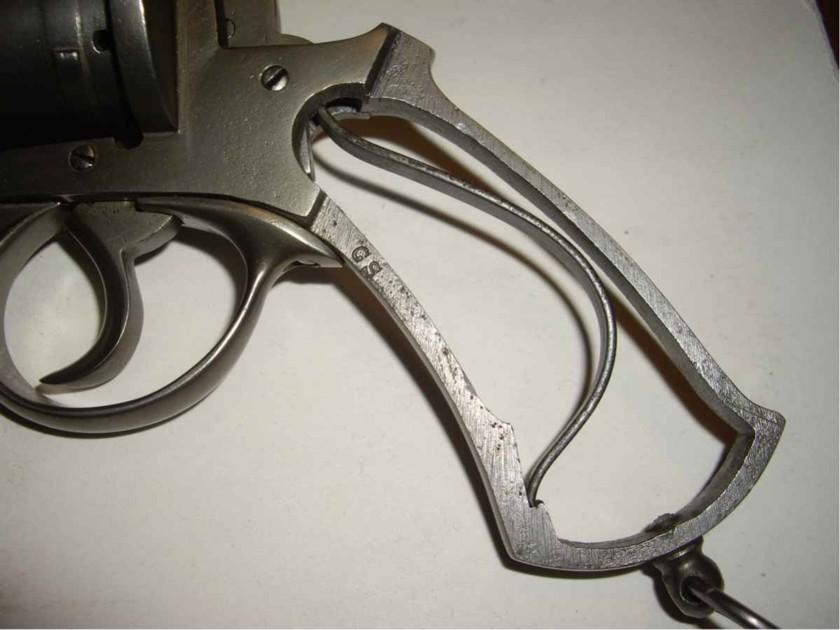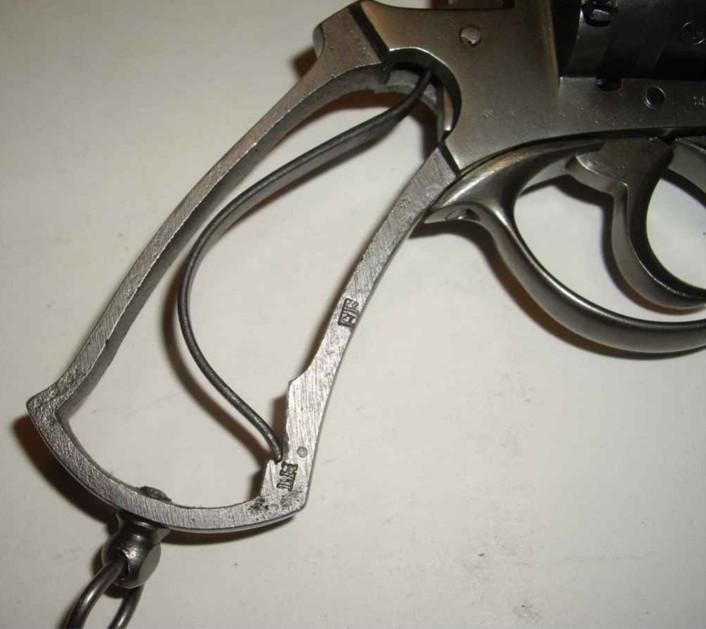 J.B. Rongé Fils
Beautiful rifle with rod and percussion, loading by the mouth.
The hammers are external.
The locks are of type "retrograde" and marked with fine gold J.B. Rongé Fils A LIEGE around the hammers.
Wood mounting of drowning is with English.
J-B Rongé Son S.A. places Xavier Neujean was registered with the proofhouse of Liege of 1832 with 1929. The company was then taken again by the A.R.M.A.F. (see site)
He is to be regretted the absence of photographs of the punches of the proofhouse of Liege who are probably under mounting, that would have supplemented the identification.
GG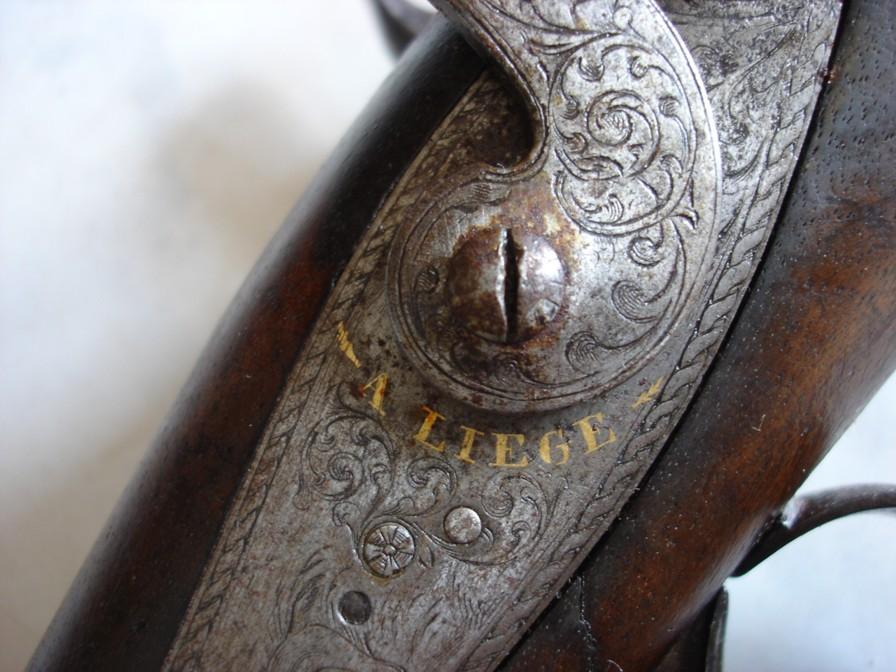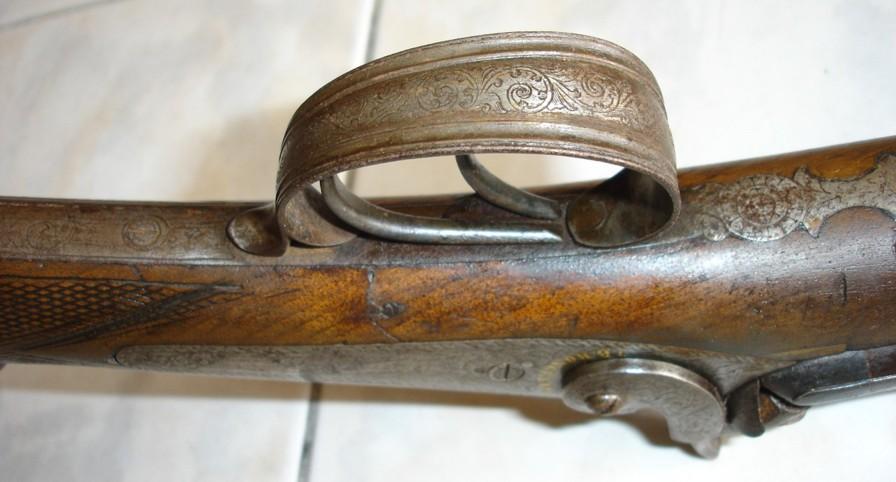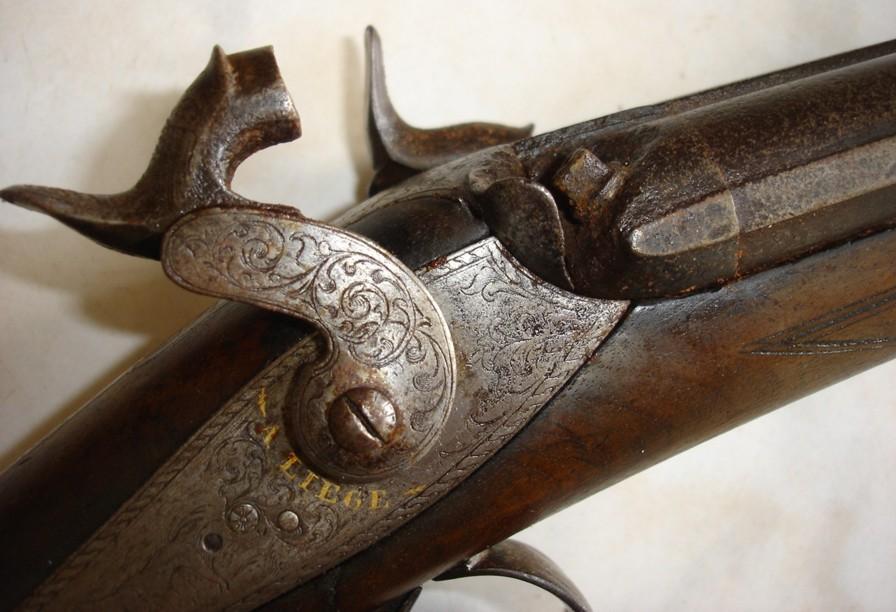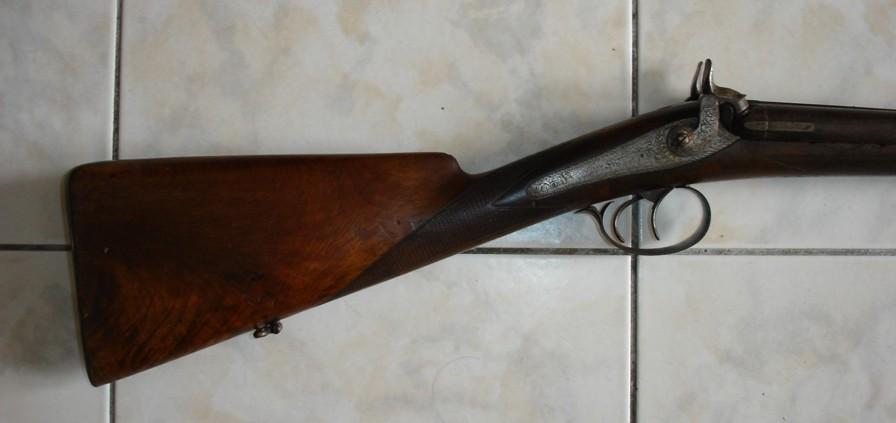 Rongé J.B. fils
Belgian bench test 1832 – 1929.
Activity taken again in 1929 by ARMAF S.A.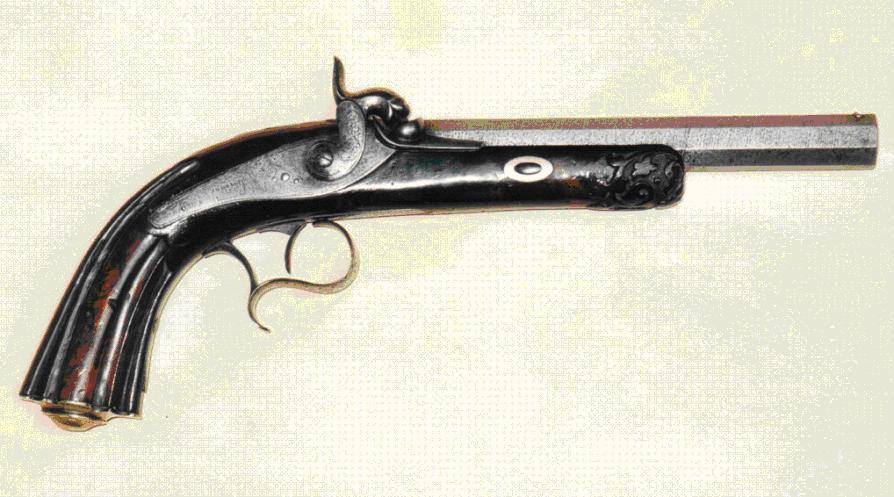 PISTOLET RONGE
Provenant d'une paire, ce pistolet à percussion et à platine arrière a été fabriqué par la maison Rongé & Fils à LIEGE vers 1855.
Le canon à huit pans est en damas miné et comporte douze rayures légèrement hélicoïdales.
Le canon est solidaire de la monture par un faux vérin et une clavette.
La crosse est en noyer cannelé de type renaissance. Elle est ornée d'une pièce de pouce en forme d'écusson en argent neuf et comporte également une boite à amorce dans le même métal.
L'extrémité du fût est décorée de feuillage.
Le chien est joliment sculpté en forme de dauphin.
Le pontet est à repose doigt, le chien, la platine arrière et la queue de vérin sont décorés de rinceaux.
FICHE TECHNIQUE
Longueur : 340 mm Canon : 205 mm Calibre : 13 mm
MARQUAGES
Poinçon ELG dans un ovale du banc d'épreuve de LIEGE.
Sur la queue de vérin : chiffre 2.
Sur la platine : Rongé & Fils
Sous le canon : NL et 1.
GG
Rongé Fils
Photos Littlegun
What a strange resemblance to the FN 1900!!!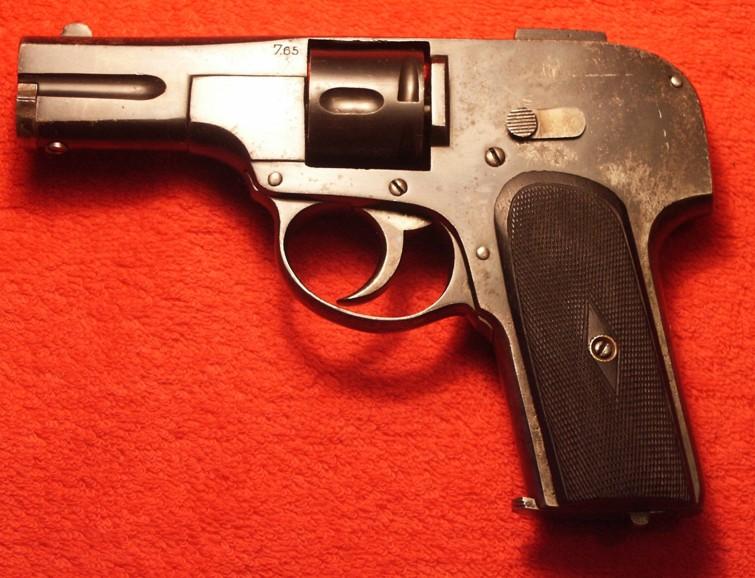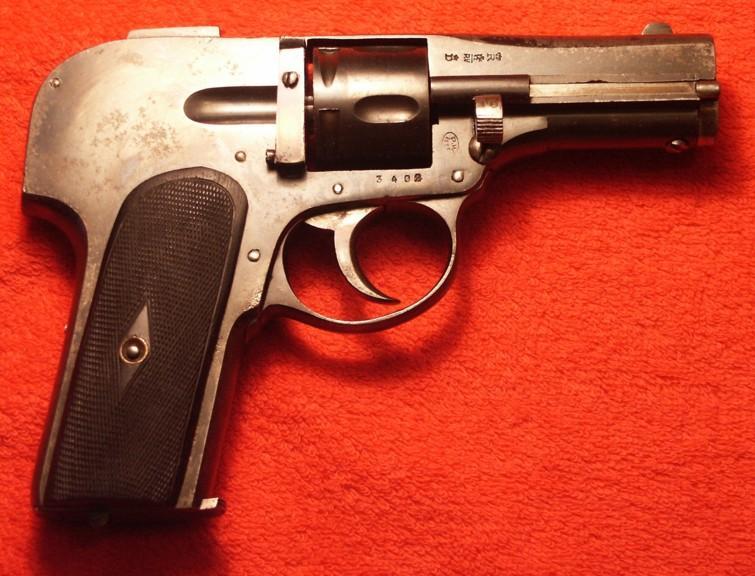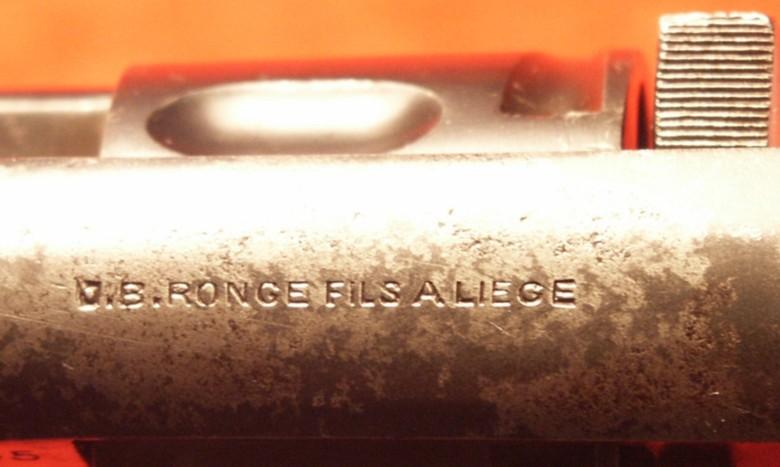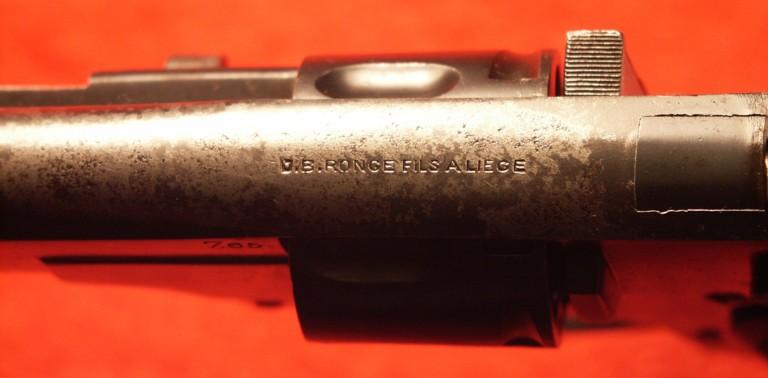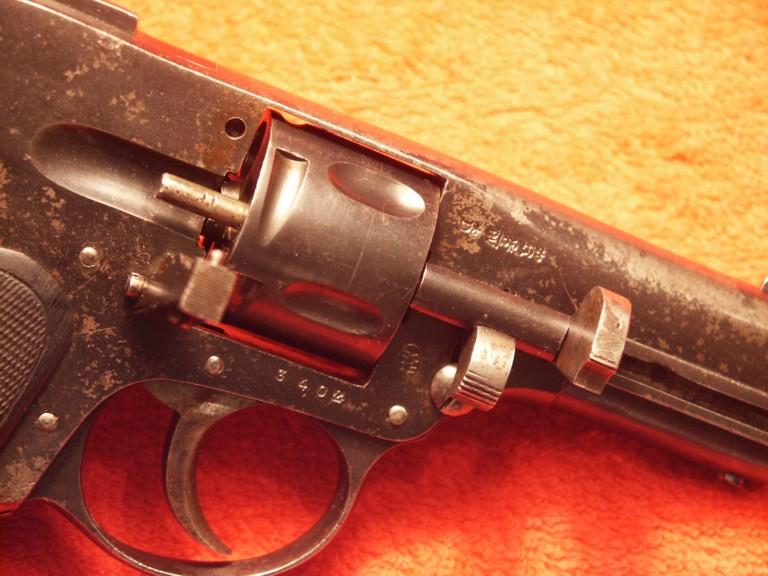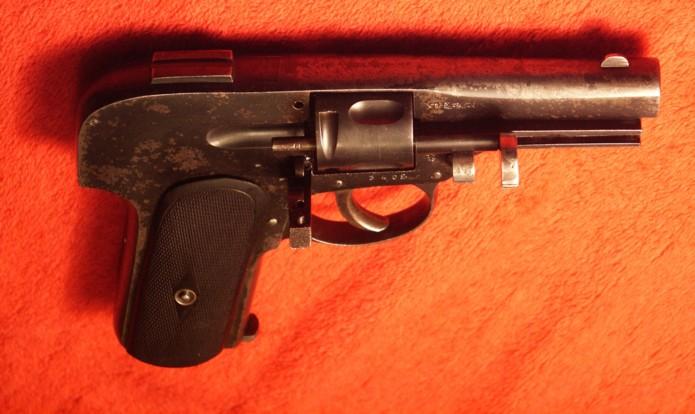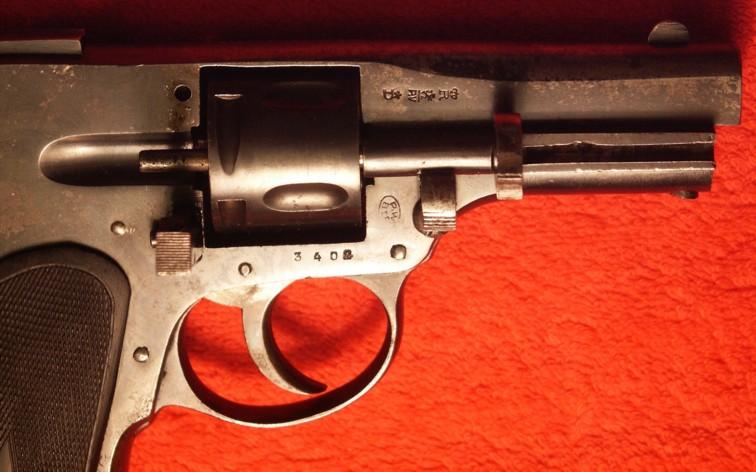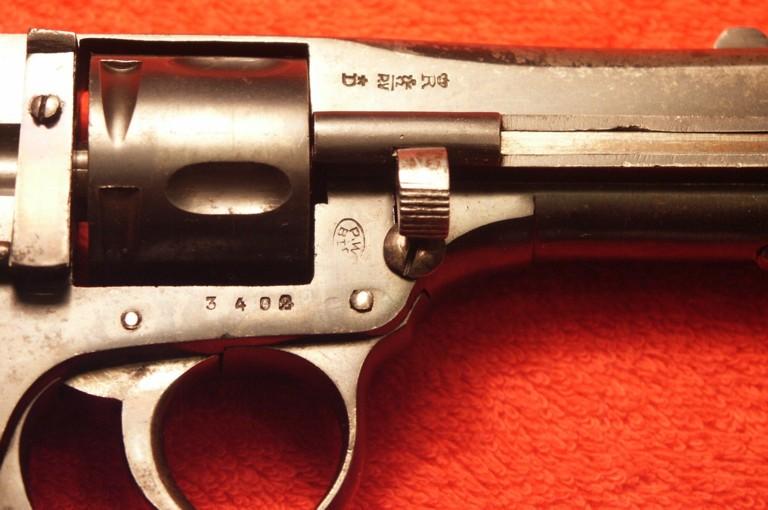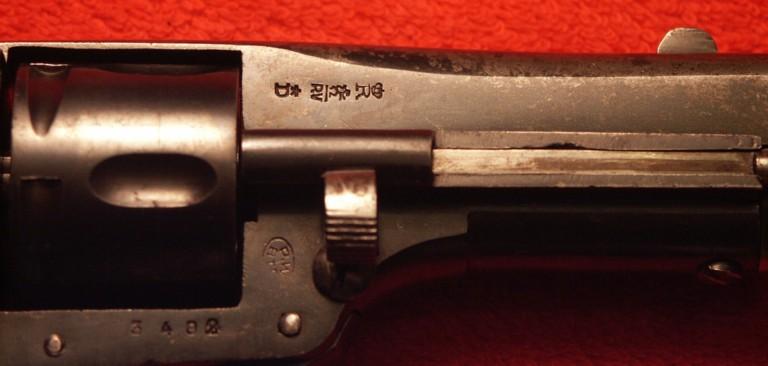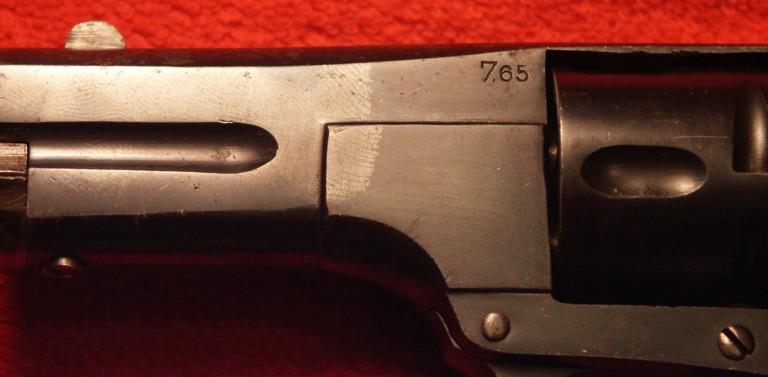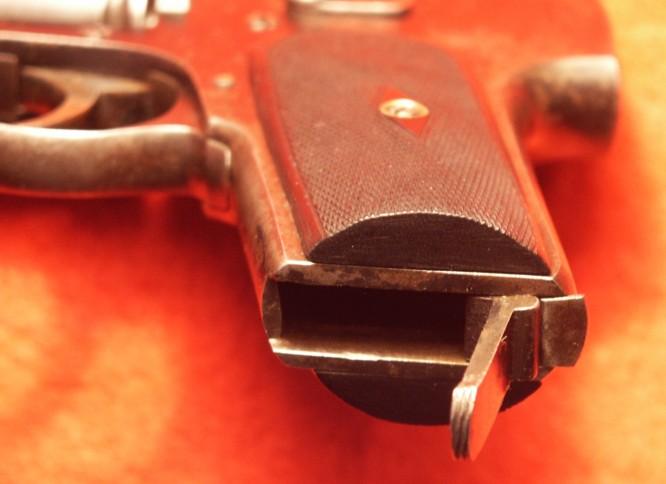 Rongé J.B.
Two "pistolets à coffre" with grip with silver nails.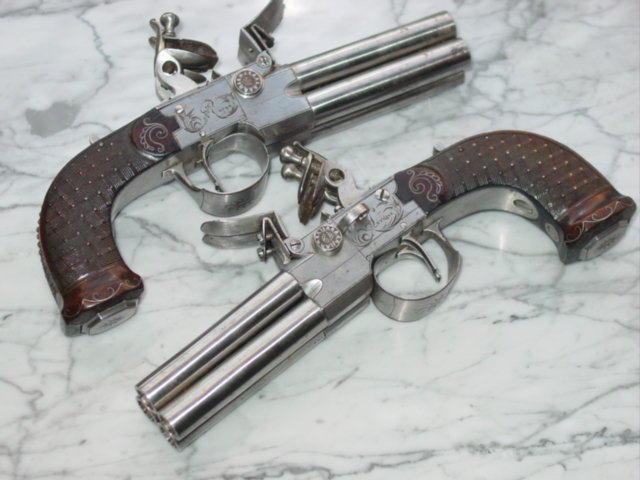 Rongé
Copy Smith & Wesson cal. 320.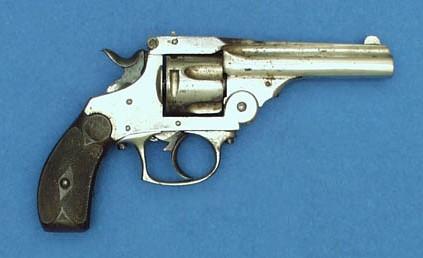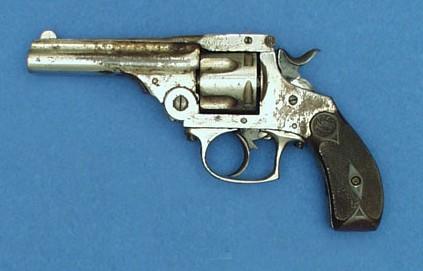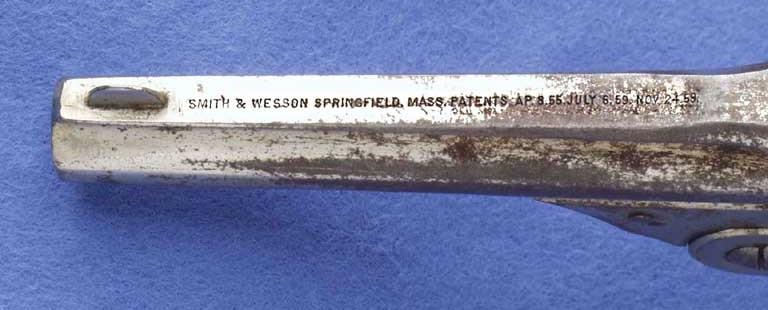 Revolver Rongé