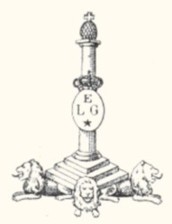 A. Dierckx
Fabrication Belge. Le récepteur, la garde de détente, le levier d'ouverture et une cale de deux pouces de chaque côté du canon supérieur sont gravés de rouleau floral avec un fond de point de poinçon.
Le côté droit de la bascule a trois canards d'or en vol dans une scène de marais, encadré de fil d'or, du côté gauche trois faisans en vol dans une scène de champ avec fil d'or encadrant et des cailles d'or sur le fond.
Détente et sûreté plaquées or. La longuesse et la crosse en noyer portent des boutons rond de fantaisie supplémentaire, avec une finition à haute brillance et une fine ligne de quadrillage en frontière multipoint et crantées. Le système de verrouillage de la longuesse a une gravure simple.
Signé "A. DIERCKX".
Manufactured in Belgium. The receiver, trigger guard, release lever and a 2 inch wedge on each side of the top barrel are nicely floral scroll engraved with a punch dot background.
The right side of the receiver has three gold ducks in flight in a marsh scene and gold wire bordering, the left side has three pheasants in flight in a field scene with gold wire bordering and there is a gold quail on the bottom.
Gold single selective trigger and tang safety/selector. The matching forearm and round knob stock are extra fancy highly figured walnut, with a high gloss finish and fine line checkering with multi-point and scalloped borders. The forearm latch assembly has simple engraving.
Signed "A. DIERCKX".