Some of the most beautiful work of this craftsman, and many others, are in this book "Liège Gunmakers through their Work. 1800 - 1950".
For more detail see: LIEGE GUNMAKERS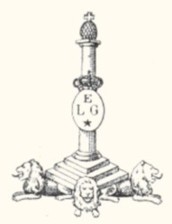 Nagant 1878
The weapon
Revolver with central percussion and close frame, NAGANT MOD 78, of ordinance of the Belgian army.
The lock is in simple and double action.
The barrel with 8 sides is of gauge 9,4mm; it carries a front sight in half-moon.
The cylinder with six rooms is grooved.
The plates out of wooden of walnut squared, are joined together by a screw and two rivet washers with only one ear.
The metal rod slides in a guide integrated by the console.
The stick ends in a metal cap and a ring of suspension with screw-pivot.
Punches
The weapon carries the lawful punches of the Manufacture d'Armes de l'Etat (Manufactory of the State), street Saint Léonard in Liege, namely:
Double L interlaced and crowned in a circle: (left side) Marking of the Belgian Government. The 2 L interlaced are the figure of LEOPOLD II King of the Belgians of 1865 to 1909.
EGB in a vertical oval: test of the Belgian government.
LH crowned in an oval: mark test of manufacture. The initial ones were specific to each controller.
Markings of the manufacturer
PATENT NAGANT: indicate that this model was patented by company NAGANT.
EM. & L. NAGANT LIEGE: marking of the firm Emilie and Leon NAGANT in Liege.
All the parts are numbered of factory, in the order of the disassembling-reassembly.
They also carry all number 6 which is the serial number of the weapon.
GG
The Belgian military weapons of troop were equipped not only with one number of weapon (of manufacture) but also of a letter (a letter by regiment) and of a number within the regiment.
Thus, your 1877 Remington Nagant must have W (the letter allotted to Gendarmerie until in the Twenties) and a number.
A Terssen carbine must have an R for the regiment of the police officers. A Terssen rifle (longer than the carbine) must have the V of the genius, etc
Idem thus for the revolvers which have on the left side a letter on the frame and a number, that one also finds on the barrel and the gun.
This splendid 1878 have only one number of manufactures, neither of number nor letter regimental. But it is well a soldier since it has punch EGB, Epreuve Gouvernement Belge (Belgian proof Government).
Therefore, it isn't a weapon of troop. Ergo, it is more than probably a weapon of officer, for example of the civic Guard which, I believe but I am not sure, was to buy their armament.
I must acknowledge not knowing if the Nagant revolvers of officers of the Belgian Army were or not equipped with a regimental number.
Oscar